Severe Food Insecurity Widespread In Yemen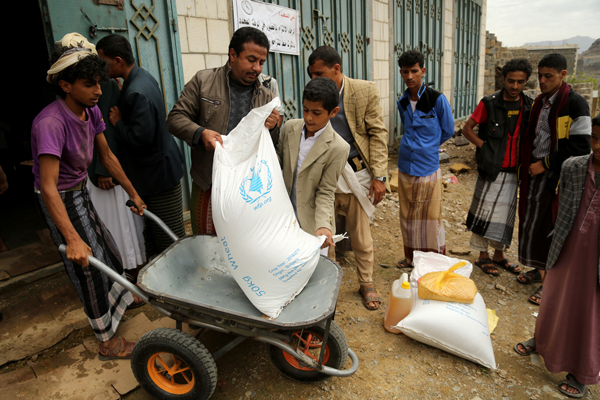 Situation expected to deteriorate if fighting continues – over half of the population living in crisis
ROME/SANA'A - Vast swathes of Yemen – 19 out of 22 governorates – are facing severe food insecurity according to a new joint assessment by the UN and partners, which warns that the situation within affected areas is likely to deteriorate if conflict persists.
The latest Integrated Food Security Phase Classification (IPC) analysis confirms that over half the country's population is living in "crisis" or "emergency" levels of food insecurity, with some governorates seeing as much as 70 percent of their population struggling to feed themselves.
At least 7 million people – a quarter of the population – are living under Emergency levels of food insecurity (Phase 4 on the five-tiered IPC scale). This reflects a 15-percent increase since June 2015. A further 7.1 million people are in a state of Crisis (Phase 3).
"The IPC results clearly show the huge magnitude of the humanitarian crisis in Yemen," said Jamie McGoldrick, UN Humanitarian Coordinator for Yemen. "This is one of the worst crises in the world and is continuing to get worse. Conflict has taken a very heavy toll on the country and its people, exacerbated widespread vulnerability and virtually destroyed household coping mechanisms. As a result, food insecurity, remains unacceptably high."
Major drivers of food insecurity include fuel shortages and import restrictions that have reduced availability of essential food commodities in the country, which imports some 90 percent of its staple foods. . Food and fuel imports in March 2016 were the lowest since October 2015 and satisfied only 12 percent of the country's fuel needs.
Domestic prices of wheat, meanwhile, were 12-15 percent higher in May 2016 compared with pre-crisis levels, even though global wheat prices have decreased in recent months.
Shortages of seeds and fertilizers have crippled crop production across Yemen, where around 50 percent of the labour force earns their living from the agriculture sector and related activities.
Two cyclones in November 2015, plus flash floods and locust swarms in April 2016 further plagued already struggling communities, limiting their ability to produce and access food.
"We managed to provide support across the most affected governorates under these challenging conditions, but ongoing conflict, displacement and limited access to farmland and fishing sites continue to cause significant losses to agriculture and threaten farmers' livelihoods," stressed FAO's Yemen Representative Salah El Hajj Hassan. "With access to many staple foods limited through import and transport restrictions, helping communities feed themselves through back-yard farming and small poultry production, among other interventions, is essential now."
"With the fluidity of the situation and until a political solution is in place, we will continue to see an increase in the number of people struggling to feed themselves and their families and further deterioration in food security across Yemen," said Purnima Kashyap, WFP Representative and Country Director. "We appeal to all parties to ensure unrestricted access for the delivery of humanitarian assistance to affected people."
Some 3 million children under the age of 5 and pregnant or nursing women require services to treat or prevent acute malnutrition, the report said citing UNICEF data.
Global Acute Malnutrition (GAM) is at an alarming stage in most of the country's governorates, reaching levels of 25.1 percent in Taiz Lowland and 21.7 in Al Hodeidah.
The same areas have seen a significant decrease in traditional fishing -- by about 75 percent in Taiz and Al Hodeidah. In other governorates fishing operations have halved compared with 2014.
Under these circumstances, both food and agricultural assistance are critical to saving lives and livelihoods across Yemen.
"From January to 30 April 2016, about 3.6 million people received emergency food assistance, but the overall response is significantly underfunded," said McGoldrick. "I urgently appeal to donors to increase humanitarian funding so that more food assistance can be delivered to millions of other people in urgent need."
The joint IPC analysis is the result of weeks of information gathering by a partnership of UN agencies, including UNICEF and WFP, and NGOs under the leadership of the European Union-funded Food Security Information Systems (FSIS) programme and the Food Security Technical Secretariat of the Yemeni government's Ministry of Planning and International Cooperation.
Photo link to download hi-res pictures.
#                              #                                 #
About FAO
FAO leads international efforts to defeat hunger. It helps countries to modernize and improve agriculture, forestry and fisheries practices and ensure good nutrition for all. FAO focuses special attention on developing rural areas, home to 70 percent of the world's poor and hungry people. For more information visit: www.fao.org or follow FAO on Twitter @FAOnews.
About WFP
WFP is the world's largest humanitarian agency fighting hunger worldwide, delivering food assistance in emergencies and working with communities to improve nutrition and build resilience. Each year, WFP assists 80 million people in around 80 countries. For more information visit: www.wfp.org or follow WFP on Twitter @wfp_media and @wfp_mena
For more information please contact:
Kim-Jenna Jurriaans, FAO Rome Tel (+39) 06 570 54277 KimJenna.Jurriaans@fao.org
Abeer Etefa, WFP/Cairo, Tel. +202 2528 1730 ext. 2600, Mob. +201066634352 Abeer.Etefa@wfp.org