UK Supports WFP Efforts To Avert Famine In Yemen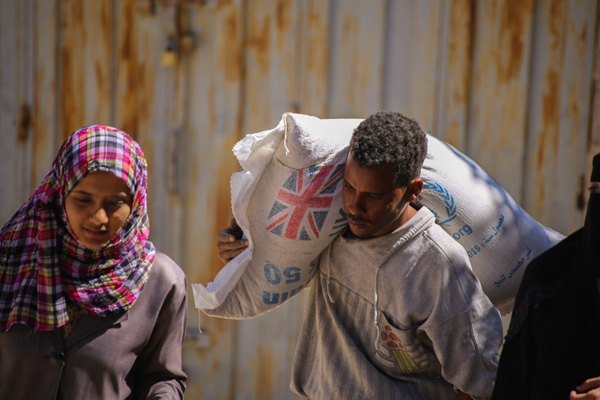 SANA'A – As efforts intensify to avert famine in Yemen, the United Kingdom has stepped up its support to the World Food Programme (WFP) by providing a contribution which will deliver life-saving food assistance for more than two million people in the country.
The £20 million (US$26 million) contribution from the Department for International Development (DFID) comes at a crucial time, as WFP strives to provide monthly food assistance to nearly seven million people on the verge of famine in Yemen. The country is mired in one of the world's worst hunger crises, with more than 17 million people – two out of three people – requiring food assistance for survival.  
"With millions of our brothers and sisters in Yemen on the brink of starvation, WFP is grateful for this significant and timely donation from the United Kingdom," said WFP Executive Director David Beasley. "DFID's contribution allows us to continue our life-saving work to provide food and nutritional support for children and other vulnerable people, many who face hunger or are threatened by the outbreak of cholera."
WFP will use the UK contribution to provide two months of food assistance for more than two million people through direct distributions and food vouchers. The funding will also help WFP to provide nutritional support to around 550,000 pregnant and breastfeeding women for two months.
"The UK is providing a lifeline to millions of people in Yemen by providing food, clean water and emergency healthcare to contain the world's worst cholera outbreak," said International Development Secretary Priti Patel. "The international community must step up its response to stop Yemen falling into famine. Only by working together can we help stem this disaster."
Each month, WFP aims to provide food assistance to 6.8 million people in Yemen. Of these, 3.3 million people in areas most at risk of slipping into famine receive full food rations. The rest receive 60 percent of a full ration due to a shortage of funding. WFP operations in Yemen are little more than 40 percent funded for the coming six months, with WFP facing a funding shortfall of US$369 million through February 2018.  
The UK is playing a leading role in the humanitarian response as the third largest humanitarian donor to Yemen and the second largest donor to the UN appeal. The support for WFP comes from the UK's increased funding of £139 million for Yemen for 2017-18.
The UK government has been one of WFP's most consistent and reliable partners in Yemen. Since 2015, the UK has generously contributed more than US$56 million to support WFP in its response to the hunger crisis in Yemen.
#                              #                                 #
About WFP
WFP is the world's largest humanitarian agency fighting hunger worldwide, delivering food assistance in emergencies and working with communities to improve nutrition and build resilience. Each year, WFP assists some 80 million people in around 80 countries.
Follow us on Twitter @wfp_media, @wfp_mena
About DFID
We lead the UK government's work to end extreme poverty.  Find out more at www.gov.uk/dfid.
Get our latest press releases, free-to-use photos, embeddable videos and case studies online.
For breaking news, follow us on Twitter: @DFID_Press @DFID_UK
For more information please contact:
Mohamed Megahed, WFP/Amman, Tel. +962 791295749, email: mohamed.megahed@wfp.org    
Abeer Etefa, WFP/Cairo, Tel. +2010 66634352, email: abeer.etefa@wfp.org
DFID Press Office: 020 7023 0600 (Overseas +44 20 7023 0600)