UN Agencies Press Donors To Keep Up Vital Support For Malian Refugees In Mauritania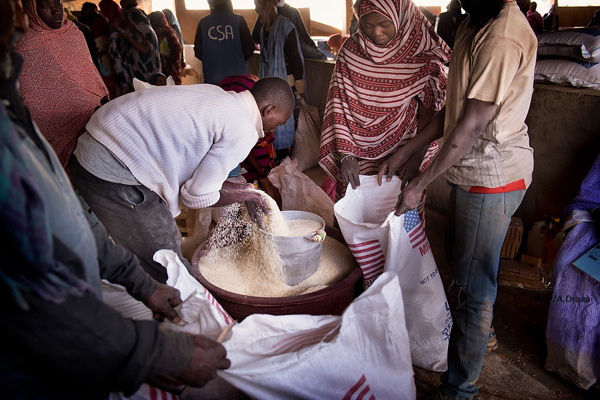 NOUAKCHOTT – The United Nations High Commissioner for Refugees (UNHCR), the United Nations World Food Programme (WFP) and the United Nations Children's Fund (UNICEF) urge donors to provide immediate support to ensure that 50,000 Malian refugees in Mauritania's Mberra camp continue to receive life-saving assistance. The three agencies warn that current funding will only cover needs until April.
Since 2012, the three agencies have been working closely with the Government of Mauritania and non-governmental organizations to assist Malian refugees who fled the conflict in northern Mali and continue to rely on external support.
UNHCR ensures refugees' protection as well as their access to primary education, health, shelter, water, sanitation and hygiene as well as the camp management and the distribution of food and basic items.
Moreover, UNHCR promotes refugees' self-reliance through adult literacy courses, training, livelihoods and income-generating activities in order to reduce dependency on external aid as well as providing tailored assistance for the most vulnerable.
WFP provides assistance to about 50,000 Malian refugees in Mberra camp. This includes monthly food distributions to all refugees; fortified nutritional supplements for children under five and pregnant and nursing women to treat and prevent moderate acute malnutrition; and a daily hot meal to children in schools.
"Refugees in the camp have lost almost everything, and for many of them, WFP's food and nutrition assistance is a lifeline," said Mr. Janne Suvanto, WFP Country Director in Mauritania. "We have seen the negative impact that a disruption in our assistance in 2015 had on the health of refugee families, with an increase in the number of children and women falling into malnutrition. We know that the slightest change in our food assistance could have dramatic consequences. More than 50,000 refugees rely on us and WFP requires US$5.3 million to cover immediate gaps and ensure that these people continue to receive the assistance that they need," concluded Mr. Suvanto.
In Mberra camp, UNICEF continues to reinforce the access to basic social services of good quality in terms of nutrition, health and education. Children benefit from formal and non-formal education classes. Funding also enables, among other activities, the rehabilitation of child-friendly spaces, the identification of children with protection issues and the treatment of severely malnourished children. "The camp hosts 36,300 children. Our interventions are made possible thanks to donors' contributions and to partners' joint efforts" explains UNICEF Mauritania Representative Mr. Souleymane Diabaté. "Without urgent funding, estimated at US$ 3 million, out of a total amount of US$15 million required by UNICEF for the overall humanitarian assistance in Mauritania, children and their families would miss vital support."
"The overall humanitarian situation in Mberra camp has consistently improved since 2012, particularly in terms of access to clean water, quality health and community services for all refugees. Such achievements come as a result of joint efforts and must be maintained" explained Mr. Mohamed Alwash, UNHCR Representative in Mauritania. "Funding at this stage of the operation is crucial to sustain progresses," he added. "While the situation in Northern Mali remains volatile with no massive scale voluntary returns envisaged in 2016, the lives of more than 50,000 people depend on the funding of this operation," Mr. Alwash concluded.
                    
#                              #                                 #
UNHCR leads and coordinates international action for the worldwide protection of people forced to flee, to safeguard the rights and well-being of refugees. For over six decades, in nearly every major displacement crisis, UNHCR helped tens of millions of uprooted people, providing durable solutions to their plights.
WFP is the world's largest humanitarian agency fighting hunger worldwide, delivering food assistance in emergencies and working with communities to improve nutrition and build resilience. Each year, WFP assists some 80 million people in around 80 countries.
UNICEF is a leading humanitarian and development agency working globally for the rights of every child. Child rights begin with safe shelter, nutrition, protection from disaster and conflict and traverse the life cycle: pre-natal care for healthy births, clean water and sanitation, health care and education. UNICEF has spent nearly 70 years working to improve the lives of children and their families.
For more information please contact:
UNHCR Mauritania:
Sebastien Laroze Barrit, Associate External Relations Officer, larozes@unhcr.org, +222 22 685 551
Helena B. Pes, Associate Public Information Officer, pes@unhcr.org, +222 22 887 904
UNICEF Mauritania:
Zahra Cheikh Malainine, Communication Specialist, zcmalainine@unicef.org,
WFP
Marie-Joelle  Jean-Charles, WFP/Mauritanie, mariejo.jncharles@wfp.org, +222 27093363
Adel Sarkozi, WFP/Dakar, adel.sarkozi@wfp.org, + 221 776375964