United States Government Bolsters Aid To Hungry Syrians With A US$185 Million Contribution To WFP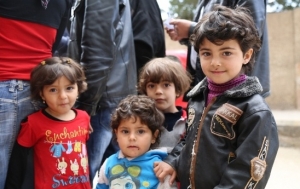 WASHINGTON – The United States government is providing an additional US$185 million to the UN World Food Programme (WFP) to help feed the hungry in the fourth year of Syria's protracted humanitarian crisis.
Of that amount, US$122 million will help Syrian refugees in Egypt, Iraq, Jordan, Lebanon and Turkey, and US$63 million will assist vulnerable people within Syria. This critical cash contribution will be used for food, cash-and-voucher and other programmes. The funds come from the United States Agency for International Development (USAID).
"Now, more than ever, these funds are required to help the World Food Programme respond to a crisis that continues to devastate millions of lives and seems without end," says Ertharin Cousin, WFP's Executive Director. "We applaud USAID for its steadfast commitment to ensuring that victims of this terrible conflict receive the essential food assistance they need."
The Syrian crisis has demanded unprecedented resources from the donor community and from WFP, which requires US$35 million each week to feed those left hungry by the conflict.
In 2014, WFP is planning to assist over 2.5 million Syrian refugees in neighbouring countries, and is working to reach more than 4 million people each month within Syria.
#                              #                                 #
WFP is the world's largest humanitarian agency fighting hunger worldwide, delivering food in emergencies and working with communities to build resilience. In 2013, WFP assisted more than 80 million people in 75 countries.
Follow us on Twitter @wfp_media and @wfp_mena
For more information please contact (email address: firstname.lastname@wfp.org):
Steve Taravella, WFP/Washington, Tel. +1-202-653-1149, Mob. +1 202 770 5993
Dina El Kassaby, WFP/Amman, Tel. +962 65154009, Mob. +962 7 9867 4638
Shaimaa Fayed, WFP/Cairo, Tel. +202 25281730/4
Emilia Casella, WFP/Rome, Tel. +39 06 6513 3854, Mob. +39 347 9450634
Elisabeth Byrs, WFP/Geneva, Tel. +41 22 917 8564, Mob. +41 79 473 4570