Unprecedented German Contribution To WFP Brings Hope To Millions In Syria Crisis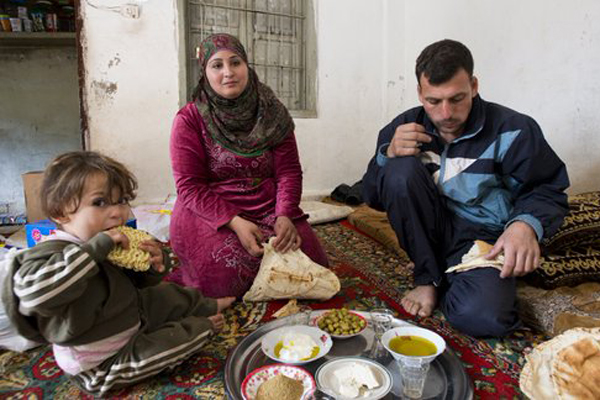 LONDON – At the Supporting Syria and the Region conference today, the Executive Director of the United Nations World Food Programme (WFP), Ertharin Cousin, personally thanked German Chancellor Angela Merkel for her government's landmark contribution to WFP of €570 million (US$623 million) from the German Federal Foreign Office (GFFO) and the Ministry for Economic Cooperation and Development (BMZ).
"Germany's generous support has already enabled us not only to save Syrians' lives but also to support the livelihoods of suffering people. This unprecedented donation will restore hope to so many of those who have been caught up in this terrible conflict," said Cousin, who met the Chancellor in London. "We are extremely grateful to the German government."
The contribution, which brings Germany's total contributions to WFP during the Syria crisis to close to €760 million, will be crucial for the WFP Syria crisis response throughout the continuing winter period in the region. On average, one euro feeds one refugee a day in Turkey, Lebanon, Jordan, Iraq and Egypt. WFP currently supports an average 4 million Syrians per month inside the country and 1.3 million refugees in neighbouring countries.
"This conflict and its consequences touch us all," said Cousin. "WFP's new campaign, #IamSyrian, calls on the world to empathize with the suffering of ordinary Syrians. Germany has just answered that call with a big commitment to support families who are being displaced at the rate of 50 families per hour. We thank you on their behalf."
 
Germany was already WFP's second largest donor in this crisis following the United States, having provided €137 million for WFP's emergency response both inside and beyond Syria in 2015 alone.
Germany is also the place where WFP's innovative ShareTheMeal app was developed, which enables smartphone users to donate to selected WFP programmes. Since the launch in 2015, around 450,000 users worldwide have provided the equivalent to more than 4 million meals. Funds have been used to provide school meals to Syrian refugee children in Jordan and are now supporting pregnant women, nursing mothers and young children in the Syrian city of Homs.
WFP and Germany established new areas of cooperation in 2015. The opening later this year of an Innovation Accelerator in Munich, funded by BMZ, GFFO and the State of Bavaria, will enable WFP and partners to develop the most innovative and efficient solutions to new challenges in humanitarian assistance as well as development programmes in times of multiple crises and growing needs.
Germany has also helped WFP meet global challenges, extending its partnerships with WFP in the areas of emergency preparedness, nutrition and resilience: Since 2014, BMZ has provided about €24 million to activities such as nutrition programmes for mothers and children, and Food-for-Asset programmes in countries such as Malawi, Kenya and Somalia. In the same period, GFFO supported WFP programmes improving communities' resilience against natural disasters with €11.5 million. The multi-year character of both ministries' funding in these areas will ensure the programmes' sustainability and impact on the ground.
#                              #                                 #
WFP is the world's largest humanitarian agency fighting hunger worldwide, delivering food assistance in emergencies and working with communities to improve nutrition and build resilience. Each year, WFP assists some 80 million people in around 80 countries.
Follow us on Twitter @WFP and @wfp_DE
For more information please contact (email address: firstname.lastname@wfp.org):
Ralf Suedhoff, WFP/Berlin, Tel. +49 30 206 149, Mob. 49 160 949 12547
Maria Smentek, WFP/Berlin, Tel. +49 206 149 29, Mob. +49 172 345 7184
Abeer Etefa, WFP/Cairo, Tel. +202 2528 1730 ext. 2600, Mob. +201066634352
Jane Howard, WFP/Rome, Tel. +39 06 65132321, Mob. +39 346 7600521
Bettina Luescher, WFP/Geneva, Tel. +41 22 917 8564, Mob. + 41-79-842-8057
Gregory Barrow, WFP/London, Tel.  +44 20 72409001, Mob.  +44 7968 008474
Gerald Bourke, WFP/New York, Tel. +1-646-5566909, Mob.  +1-646 525 9982
Steve Taravella, WFP/Washington DC, Tel. +1 202 653 1149, Mob. +1 202 770 5993