Urgent And Ambitious Climate Action Needed To End Hunger In Our Lifetime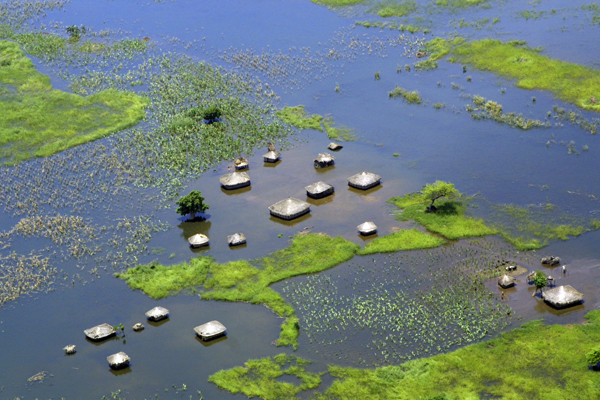 ROME/PARIS – The United Nations World Food Programme (WFP) will attend the climate negotiations (COP21) 30 November-11 December 2015, in Paris, France.
WHY WFP: The global climate negotiations are critical for a world without hunger. Among the most significant impacts of climate change is its potential to increase hunger and malnutrition. The current El Niño and complex droughts, storms and floods the world is experiencing today provide a window into what our future could look like if a meaningful climate agreement is not reached. Urgent and ambitious climate action is needed to achieve the Global Goal of ending hunger by 2030.
WHAT : At COP 21 WFP will launch FoodSECuRE, a ground-breaking tool that triggers action before disaster occurs by blending scientific weather-forecasting and flexible finance mechanisms. A FoodSECuRE analysis in Niger and Sudan suggests that responding ahead of disasters lowers the cost of a future humanitarian response by a half.
WHO: Those attending include heads of states, government ministers, climate change experts, UN and international agencies, civil society groups and the private sector. WFP will be represented by:
Executive Director Ertharin Cousin (1 - 2 December)
Deputy Executive Director Amir Abdulla (7 December)
Chief of Climate and Disaster Risk Reduction Richard Choularton (30 Nov-8 Dec)
Available for interviews upon request.
RESOURCES:
Video: WFP climate change and hunger B-roll and shot list available here
Photos: climate disasters and climate change adaptation
Read more: www.wfp.org/climate-change / www.wfp.org/cop21
#                              #                                 #
WFP is the world's largest humanitarian agency fighting hunger worldwide, delivering food assistance in emergencies and working with communities to improve nutrition and build resilience. Each year, WFP assists some 80 million people in around 80 countries.
Follow us on Twitter @wfp_media and @wfp and @RChoularton
For more information please contact (email address: firstname.lastname@wfp.org):
Fiona Guy, WFP/Rome, Paris, Tel. +39 06 6513 3187, Mob. +39 349 9208584
Frances Kennedy, WFP/Rome, Tel. +39 06 6513 3725 Mob. +39 346 7600806
Gregory Barrow, WFP/London, Tel +44 7508 868 997, Mob. +447968008474
Gerald Bourke, WFP/New York, Tel +1-646 556 6907, Mob. +646 525 9982