Voucher System Provides Vulnerable Families In Gaza With Critical Supplies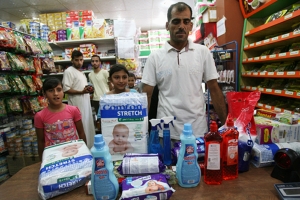 GAZA – The United Nations Children's Fund (UNICEF) and the World Food Programme (WFP) have come together to ensure critical food, water and sanitation supplies reach the most vulnerable families and children affected by 50 days of armed conflict in Gaza.
During the hostilities, 78,000 displaced people in host communities, half of them children, received electronic vouchers which operate like debit cards, enabling them to purchase locally produced food, safe drinking water and sanitary products at local shops.
Following the ceasefire agreement, WFP and UNICEF, together with Oxfam GB, will progressively scale up the voucher programme to provide relief to the most vulnerable families. The focus will be on vulnerable families affected by the conflict, such as those who lost their livelihoods or who have not benefited from any other support.
'This electronic voucher system is an innovative tool in providing critical, timely and relevant support to families and children in need," said UNICEF State of Palestine Special Representative, June Kunugi.
The emergency voucher system allows families to choose from a list of pre-approved products to get basic, but critically needed commodities. The money injects funds into the battered Gaza economy.
To continue the voucher programme and help scale up voucher assistance, WFP and UNICEF require more than US$20.7 million of urgent funding.
With the school year expected to finally resume on 14 September, the programme will be extended to also provide 100,000 children with school uniforms and shoes. This will help them resume schooling and return to normal life.
"This is a great example of cooperation between humanitarian partners, building on the areas of expertise of both WFP and UNICEF, that ensures families have enough to eat, drink and resume their lives while supporting the local economy," said WFP Country Director, Pablo Recalde.
The e-vouchers distributed during the conflict were worth approximately US$128 per month for an average family of six. Although shop opening hours were reduced during the conflict, redemption rates for vouchers averaged at more than 95 per cent. Stores are monitored on a daily basis to ensure that sufficient stocks are available and that prices remain in line with market standards.  
The one off new e-vouchers, which will include school uniforms, water, sanitation and hygiene supplies, will have a value of approximately US$150 per family.
For more information, please contact:
Monica Awad (Mawad@unicef.org), mobile: 00972 054 778 7605
Colin Kampschoer (Colin.kampschoer@wfp.org), mobile: 00972 054 677 3136
#                              #                                 #
WFP is the world's largest humanitarian agency fighting hunger worldwide, delivering food in emergencies and working with communities to build resilience. In 2013, WFP assisted more than 80 million people in 75 countries.
Follow us on Twitter @wfp_media & @wfp_mena
UNICEF:
UNICEF promotes the rights and wellbeing of every child, in everything we do. Together with our partners, we work in more than 190 countries and territories to translate that commitment into practical action, focusing special effort on reaching the most vulnerable and excluded children, to the benefit of all children, everywhere.
For more information about UNICEF and its work visit: www.unicef.org/opt
Follow us on facebook https://www.facebook.com/unicefstateofpalestine