WFP'S ShareTheMeal App and Goodwill Ambassador Hend Sabry Launch "Share Your Iftar" Campaign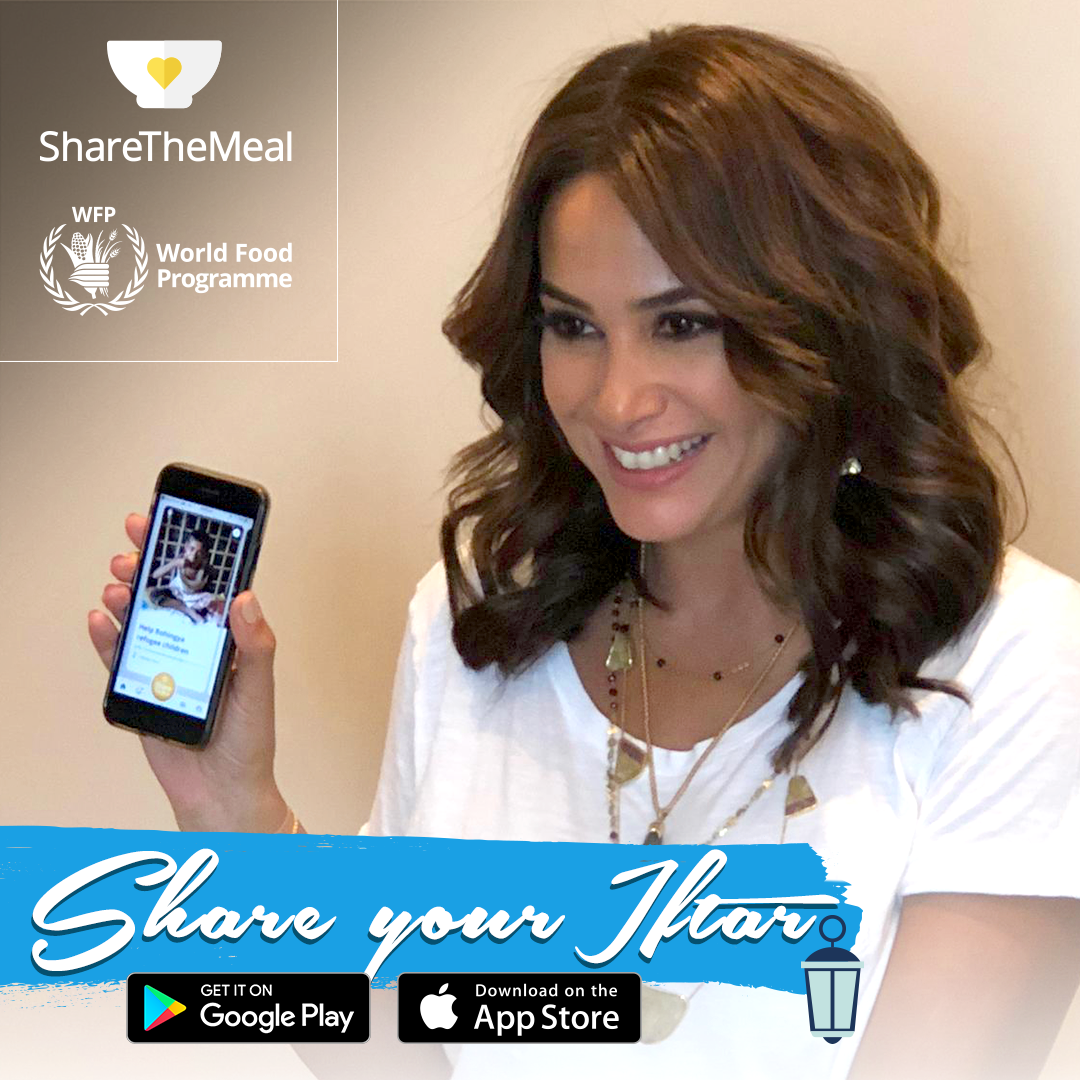 CAIRO – The World Food Programme and Tunisian actress Hend Sabry today launched an innovative digital fundraising campaign for Ramadan, encouraging smartphone users around the world to donate at the tap of a button in support of vulnerable victims of conflict in the Middle East during the Muslim Holy Month.
Through ShareTheMeal, WFP's fundraising app, smartphone users around the world can help families in need in Syria and Yemen by sharing their iftar, the meal served at sunset in Ramadan to break the daylong fast, and donating to help those in need. 
"Iftar is one of the most beautiful moments when families and friends share food each day of Ramadan," said WFP Goodwill Ambassador Hend Sabry. "Unfortunately, not everyone has the privilege to eat when the sun sets and children all over the world face hunger day and night. I am launching this campaign with WFP because I genuinely believe that the ShareTheMeal app gives every one of us the power to help them."
During Ramadan, millions of families in Yemen and Syria do not know where their next meal is coming from. Conflict in the Middle East has forced millions of people to abandon their land, homes and jobs — putting them at risk of hunger or famine. 
"I am committing to use the ShareTheMeal app to share my iftar every day this Ramadan and I will ask my friends, family and fans to follow suit throughout the month and even after Ramadan ends. It doesn't get any easier than the tap of a button," Sabry added.
By downloading the app and joining The Table, ShareTheMeal's new monthly giving feature, donors can extend their charity beyond the Holy Month, supporting hungry families throughout the year. As little as US$15 covers the basic food needs of a hungry child for an entire month, bringing vital support to some of the most vulnerable families in the world. 
 "Throughout Ramadan, we invite users from around the world to take action through innovation. Whether celebrating the Holy Month abroad or at home, ShareTheMeal not only allows you to give back with ease, but be connected to the community at large fighting hunger," said Massimiliano Costa, Head of ShareTheMeal.
The Table feature on the ShareTheMeal app enables monthly givers to follow their donation and see exactly how it is helping families in need. Members are virtually connected with the people they are supporting through personalised updates and exclusive stories, as well as finding out what food different families have bought using their donations.
#                          #                              #
WFP's ShareTheMeal app is a mobile-first fundraising tool that allows users to feed a child, with just a tap on their device and for as little as US$0.50. Since its launch two years ago, more than 1,000,000 people have joined the community worldwide. Users have shared over 22 million meals with thousands of hungry children in some of WFP's most critical operations, including Yemen, Syria and South Sudan. The app was awarded the Social Impact Award at the 2017 Google Play Awards.
The United Nations World Food Programme - saving lives in emergencies and changing lives for millions through sustainable development. WFP works in more than 80 countries around the world, feeding people caught in conflict and disasters, and laying the foundations for a better future.
Tunisian Actress Hend Sabry has been a WFP Goodwill Ambassador since 2010 and has joined the organization on several missions to highlight the plight of the most vulnerable people in the Middle East, and to bring support to WFP's work feeding millions of people worldwide.
Download the app here:  http://ow.ly/B71S30jVVjM
For additional media material, please visit: www.sharethemeal.org/media 
Follow us on Twitter @wfp_media, @ShareTheMealorg and @wfp_mena
For more information please contact (email address: firstname.lastname@wfp.org):
Dina El-Kassaby, WFP/Cairo, Mob. +2010 1521 8882
Reem Nada, WFP/Cairo, Mob. +2010 6663 4522
Abeer Etefa, WFP/Cairo, Mob. +2010 6663 4352
Frances SimpsonAllen, WFP/Berlin, Mob. +1 916 642 2246