WFP Airdrops Food In South Sudan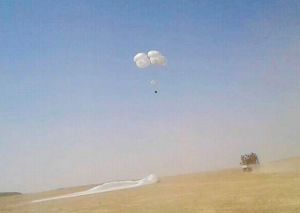 JUBA – The UN World Food Programme (WFP) has started a series of urgently needed airdrops of food assistance to remote areas of South Sudan that are unreachable because of insecurity and other obstacles. WFP launched the operation to feed people affected by conflict and to resupply isolated refugee camps where food stocks have dwindled.
"We are in a race against time to get assistance to people who are in critical need in places we simply haven't been able to reach by road or river," said WFP Country Director Chris Nikoi. "Given the level of the conflict, we have known for some time that we would have to move some food by air to some parts of the country, particularly during the rainy season, but we have faced more difficulties than envisioned and now need to deliver more food by air than  planned."
Two rounds of airdrops today delivered enough cereals for about 8,000 displaced people for 15 days in the town of Ganyiel in Unity state, following a trial run of airdrops in recent days in Maban County in Upper Nile state. Airdrops are planned for nine locations in Upper Nile, Jonglei and Unity states, and may be expanded to reach other areas.
WFP is using a combination of airdrops and airlifts – in which the aircraft lands and is unloaded – to get vital food supplies to internally displaced people (IDPs), refugees from neighbouring Sudan, and conflict-affected communities around South Sudan.
Insecurity, border restrictions and other barriers to humanitarian access are causing serious problems for WFP moving food into and around the country at a time when the agency is urgently trying to deliver food assistance to support hundreds of thousands of people in need, as well as to pre-position food before the rainy season makes more than half the country inaccessible by road.
WFP continues to work with all parties to the conflict and with neighbouring country governments to resume reliable movement of humanitarian goods, including cross-border shipments.  Transporting food across the border overland from Ethiopia and Sudan is key to supplying conflict-affected areas of South Sudan.
WFP has provided lifesaving food assistance and nutrition support to around 765,000 people in South Sudan since the crisis began in mid-December, including more than 430,000 people displaced or directly affected by conflict, as well as to another 335,000 people from pre-existing caseloads, who are refugees or members of other vulnerable groups.  WFP aims to scale up its assistance to support 2.5 million conflict-affected and food-insecure people in South Sudan over the coming months.  
WFP, working closely with the UN refugee agency (UNHCR), is also supporting a rapidly growing number of South Sudanese refugees who have fled to neighbouring countries. More than 210,000 refugees from South Sudan have arrived in Ethiopia, Kenya, Uganda and Sudan since the crisis began.  
"We are concerned about reports of alarmingly high rates of malnutrition among children arriving at refugee camps in neighbouring countries, particularly Ethiopia" said Valerie Guarnieri, WFP Regional Director for East & Central Africa. "While we are working with partners to provide specialized nutritious foods for refugee children, the high levels of malnutrition are a sign that the humanitarian situation in inaccessible regions of South Sudan may be rapidly deteriorating."  
#                              #                                 #
WFP is the world's largest humanitarian agency fighting hunger worldwide. On average, WFP reaches more than 90 million people with food assistance in 80 countries each year.
Follow us on Twitter @wfp_media AND @wfp_africa
For more information please contact (email address: firstname.lastname@wfp.org):
George Fominyen, WFP/Juba, Mob. +211 922465247
Challiss McDonough, WFP/Nairobi, Mob. +254 707722104
Emilia Casella, WFP/Rome, Tel. +39 06 6513 3854, Mob. +39 347 9450634
Elisabeth Byrs, WFP/Geneva, Tel. +41 22 917 8564, Mob. +41 79 473 4570  
Gregory Barrow, WFP/London, Tel.  +44 20 72409001, Mob.  +44 7968 008474
Bettina Luescher, WFP/New York, Tel. +1 646 5566909, Mob. +1 646 8241112
Steve Taravella, WFP/Washington DC, Tel. +1 202 653 1149, Mob. +1 202 770 5993