WFP and OAS Team up to Work on Migration, Protection, and Preparedness in the Americas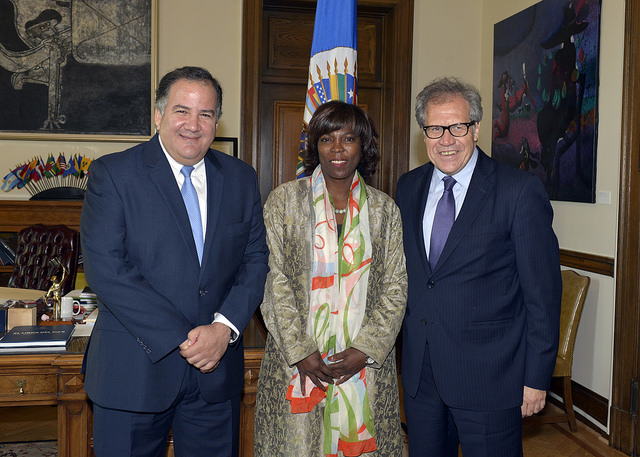 WASHINGTON, D.C. – The Executive Director of the UN World Food Programme (WFP), Ertharin Cousin, and the Secretary General of the Organization of American State (OAS), Luis Almagro, today signed an agreement to intensify their joint efforts to improve the food security and nutrition of the people of the Americas.
Almagro and Cousin discussed future collaboration on issues of migration, social protection, and emergency preparedness and response to promote the inclusion of food security and nutrition in the Inter-American dialogue. They also agreed to promote debate in OAS forums on the reinforcement of social-protection systems to mitigate and offset the impact of shocks.
 
Upon signing the agreement, Secretary General Almagro highlighted that "this is not a problem specific to any one country, it is a problem and responsibility that affects us all, and therefore demands a united response. In the Americas, we can provide an example of civility and humanism, and indeed it is our duty to advocate for such an approach."
 

Also today, WFP and the International Organization for Migration (IOM) released the results of an exploratory study into the links between hunger, violence, and migration, particularly in the Northern Triangle of Central America. One of the recommendations of researchers, among them scholars from the London School of Economics and Political Science, is to address many unanswered questions by reaching out to other international actors for their support in further research.
 More information available here
#                              #                                 #
About OAS
The Organization of American States (OAS) brings together the nations of the Western hemisphere to promote democracy, strengthen human rights, foster peace, security and cooperation, and advance common interests.
About WFP
WFP is the world's largest humanitarian agency fighting hunger worldwide, delivering food assistance in emergencies and working with communities to improve nutrition and build resilience. Each year, WFP assists some 80 million people in around 80 countries.
For more information please contact 
OAS/ Gina Ochoa  Tel. +1 202 370 9737 gochoa@oas.org
WFP /Latin America: Alejandro Chicheri, Mob. +507 6671 5355, alejandro.chicheri@wfp.org
WFP /USA: Steve Taravella Tel. +1-202-653-1149. Mob. +1-202 770 5993. steve.taravella@wfp.org