WFP Appeals To All Parties To The Conflict In Yemen To Allow Food Distributions In Taiz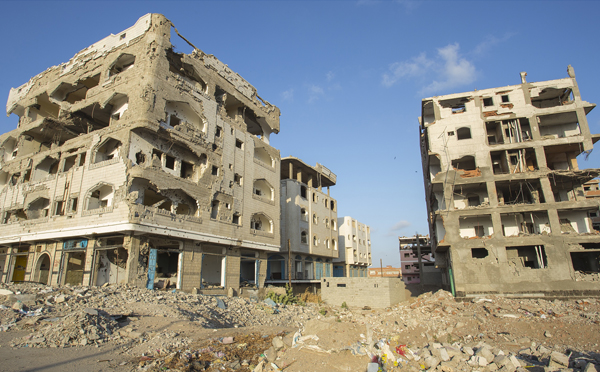 SANA'A – The United Nations World Food Programme (WFP) is deeply concerned about the rapidly deteriorating humanitarian situation in the city of Taiz where people have been going hungry for weeks as WFP struggles to reach vulnerable families in the war-torn city.
"WFP appeals to all parties to the conflict to allow the safe passage of food to all civilians in need in all areas in Taiz," said Muhannad Hadi, WFP Regional Director for the Middle East, North Africa, Eastern Europe and Central Asia.
"The precarious situation in Taiz has hampered WFP's efforts to reach impoverished people, especially in besieged parts of the city, who have not had access to food for many weeks," he added. "WFP has delivered food assistance to Taiz governorate in the hope of reaching every person in need, but so far we have not been able to reach most of them."
In the past month, WFP has dispatched to delivery points or warehouses in Taiz governorate a total of 225 trucks loaded with 6,600 metric tons of food. Some food was delivered to Al Mudhafer, Al Qahira, Al Taizah and Salah districts where WFP aims to feed nearly 350,000 destitute people with food assistance including wheat, pulses, vegetable oil and sugar.
 
Difficulty obtaining clearances from different parties, fighting and insecurity threaten the delivery of food to distribution points in many areas of the governorate, especially in Taiz city.
Taiz is one of 10 governorates – out of Yemen's 22 governorates – that are in the grip of severe food insecurity at 'Emergency' level – one step below famine on the five-point Integrated Food Security Phase Classification scale. An estimated 7.6 million people in Yemen do not have enough food to lead a healthy life, have lost their livelihoods and are facing life-threatening rates of acute malnutrition.
The conflict since late March 2015 has worsened Yemen's already poor food security situation, adding more than 3 million people to the ranks of the hungry in less than a year.
#                              #                                 #
WFP is the world's largest humanitarian agency fighting hunger worldwide, delivering food assistance in emergencies and working with communities to improve nutrition and build resilience. Each year, WFP assists some 80 million people in around 80 countries.
Follow us on Twitter @wfp_media
For more information please contact (email address: firstname.lastname@wfp.org):
Abeer Etefa, WFP/Cairo, Mob +201066634352
Reem Nada, WFP/Cairo, Mob +201066634522
Bettina Luescher, WFP/Geneva, Tel. +41 22 917 8564, Mob. + 41-79-842-8057
Gerald Bourke, WFP/New York, Tel. +1-646-5566909, Mob.  +1-646 525 9982