WFP Continues Scaling Up Ebola Response With Partners:"Together We Must Do More"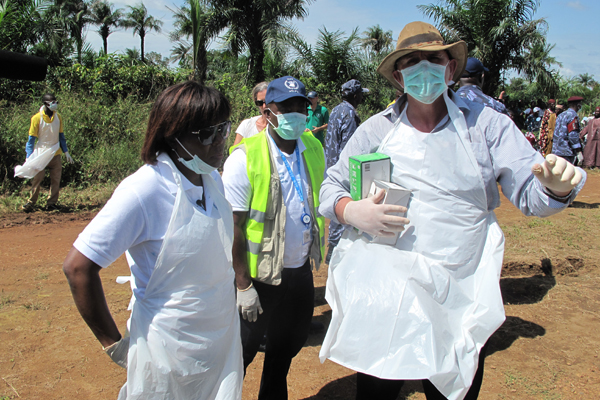 FREETOWN – At the end of a three-day visit to Sierra Leone, during which she met with government officials and key actors in the fight against Ebola, the UN World Food Programme (WFP) Executive Director Ertharin Cousin today called upon partners all over the world to work together to address the critical needs of those affected by the health crisis.
In support of a unified response under the UN Mission for Ebola Emergency Response (UNMEER), WFP has to date provided food assistance to 1.3 million people and is ramping up services to the whole humanitarian effort in Guinea, Liberia and Sierra Leone.  
"What I have learned in Sierra Leone is that the international community has made a lot of progress in meeting the needs of the victims of this crisis," Cousin said. "But we all have more work to do. We need to scale up, we need to get better, we need to perform faster. We need to ensure that everyone joins together today to make the difference that is required to stop the spread of this deadly disease."
During her visit to Sierra Leone, the WFP Executive Director met with President Ernest Bai Koroma, Assistant UN Secretary General and Ebola Crisis Manager, Amadu Kamara and a number of partners including donor representatives, UN agencies and NGOs. She also met traditional leaders and survivors of the deadly Ebola disease in Freetown.
 
"We hear about those who are infected and about those who die. We hear about the things that are not being done," Cousin said. "What we don't hear about are the stories of the men and women who have worked to address the challenges of the crisis. They are the evidence that we can win this battle."
WFP's food assistance is provided to patients in Ebola treatment centres, survivors of Ebola who are discharged from treatment centres and communities with widespread and intense transmission – including the families of people infected with Ebola who are in treatment, deceased, or recovering. This assistance  helps to stabilize affected communities by enabling them to limit unnecessary movement.
Besides food, WFP is also providing crucial transport and logistics support, particularly to medical partners, building Ebola treatment centres and storage hubs for the entire humanitarian community, in both capital cities and remote areas. In Sierra Leone, WFP is establishing logistics bases in four strategic locations including Port Loko, Makeni, Kailahun and Kenema to accommodate the influx of humanitarian supplies expected to scale-up the capacity of Ebola treatment centres.
The Ebola virus disease has killed nearly 5,000 people and there have been more than 13,000 cases reported by the World Health Organisation across the three most affected countries.
This health crisis is starting to have a negative impact on education, food security and livelihoods. Since the outbreak, schools have been closed, farms remain unattended and market and trade activities are disrupted in Guinea, Liberia and Sierra Leone.  
 
Click here to download broadcast quality footage; https://www.hightail.com/download/UlRSeFVjR3NYSHg3czhUQw
#                              #                                 #
WFP is the world's largest humanitarian agency fighting hunger worldwide, delivering food assistance in emergencies and working with communities to improve nutrition and build resilience. In 2013, WFP assisted more than 80 million people in 75 countries.
Follow us on Twitter @wfp_media  @wfp_WAfrica
For more information please contact (email address: firstname.lastname@wfp.org):
Djaounsede Pardon, WFP/Freetown, Mob. +232 79859690
Alexis Masciarelli, WFP/Dakar, Mob. +221 77 637 5964
Emilia Casella, WFP/Rome, Tel. +39 06 6513 3854, Mob. +39 347 9450634
Frances Kennedy, WFP/Rome, Tel. +39 06 6513 3725, Mob. +39 346 7600806