WFP Dispatches Food For Record Number Of Syrians As Fears Rise About Impact Of Drought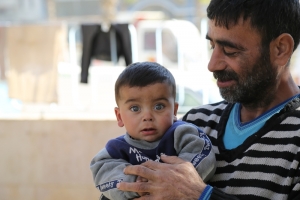 DAMASCUS/ROME – The United Nations World Food Programme (WFP) provided assistance to a record 4 million people in Syria last month but a special report published today highlights how a potential drought would strain the country's already fragile food security situation.
WFP food security analysts say rainfall since September has been less than half the long-term average, and will have a major impact on the next cereal harvest. There is only one month left in the rainfall season that lasts until mid-May and with three-quarters of the rainfall season gone, it is unlikely that there will be a significant recovery in this agricultural season.
"It has taken a massive effort from WFP and partners to scale up to reach 4 million people in March, but we fear now that a possible drought – if rainfall doesn't pick up – could put the lives of millions more at risk," said WFP's coordinator for the Syrian crisis Muhannad Hadi. "Syria suffered from five years of drought right before the conflict broke out and vulnerable communities in affected areas hardly had time to recover before they were hit by the conflict."
The Special Focus Syria report says that dry conditions, also affecting the wider Middle East, will compound the impact of the civil war on the agricultural sector. Wheat production is expected to be between 1.7 to 2 million metric tons, which would be a record low, further increasing import requirements to meet Syria's wheat needs that last year stood at 5.1 million tons.
Livestock and pastoral livelihoods will also suffer as a result of water shortages and poor pasture availability.
According to current rainfall data, the worst-affected governorates account for close to 50 percent of Syrian wheat production. The Northwest of the country, in particular the Aleppo, Idleb and Hama governorates are the most affected, with poor conditions extending also to Raqqa, southern Hassakeh and areas of Deir Ezzor.
Most of these governorates show poor crop development, with those worst-affected showing signs very similar to those of 2008; a major drought year in Syria. The increasing dependency of the country on cereal imports will further increase food prices.
According to the report, conflict has also devastated irrigation capacity, damaging pumps and canals, caused power failures, destroyed tractors and made it unsafe to work in the fields.
"As conflict affects the most productive agricultural sector, low agricultural production levels will become a permanent feature," the report says. 'The situation will not change while conflict lasts and its resolution will take considerable time if and when peace is restored to Syria."
WFP works with 28 different partners in all 14 governorates in Syria. In recent few weeks, mainly as a result of locally negotiated ceasefires, WFP has succeeded in reaching all 14 Syrian governorates for the first time in six months, although many areas within governorates remain inaccessible as the conflict continues. In addition, WFP provides food and vouchers on a monthly basis for 1.5 million Syrian refugees in neighbouring countries.
Funded entirely by voluntary contributions, WFP needs to raise around US$40 million a week to finance what is its biggest and most complex operation.
The full report is available here: http://documents.wfp.org/stellent/groups/public/documents/ena/wfp263930…
#                              #                                 #
WFP is the world's largest humanitarian agency fighting hunger worldwide. On average, WFP reaches more than 90 million people with food assistance in 80 countries each year.
Follow us on Twitter @wfp_media, @wfp_mena
For more information please contact (email address: firstname.lastname@wfp.org):
Abeer Etefa, WFP/Cairo, Mob. +20 1066634352. Tel. +202 2528 1730 ext. 2600
Dina El Kassaby, WFP/Damascus, Mob. +963 958 882 303 or +962 7 9867 4638
Laure Chadraoui, WFP/Beirut-Amman, Mob. +962795915230 and +9613489925
Elisabeth Byrs, WFP/Geneva, Tel. +41 22 917 8564, Mob. +41 79 473 4570
Bettina Luescher, WFP/New York, Tel. +1-646-5566909, Mob.  +1-646-8241112