WFP Distributes Food During Ceasefire In Gaza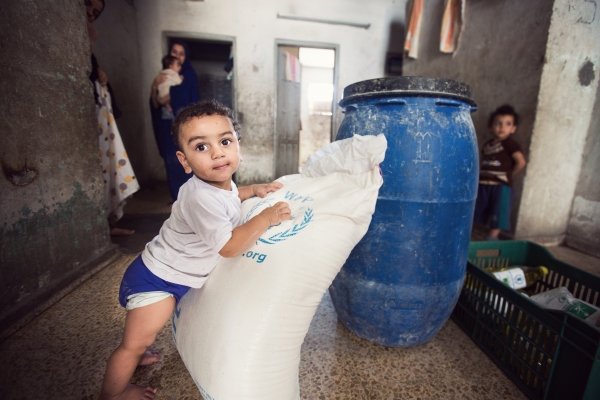 GAZA – The United Nations World Food Programme (WFP) has taken advantage of a five-hour humanitarian truce to provide emergency food assistance to thousands of people affected by the escalation in violence and to move food stocks into position around the Gaza Strip.
WFP is distributing emergency food vouchers in areas where shops are functioning as an innovative solution for food assistance at a time when banks in the Gaza Strip are closed and household incomes are at risk. It also transported food including wheat flour, bread and canned tuna from its warehouses ready for distributions to 85,000 people in the next days as security conditions permit.
"The food needs in Gaza are urgent. We are seeing the effectiveness of WFP's food assistance programmes, which provides the opportunity for a rapid response and flexibility to scale-up emergency food assistance if the need arises," says WFP Country Director Pablo Recalde.
Recalde was taking part in an inter-agency mission taking advantage of the pause in fighting to assess emergency needs.
Since the onset of the latest conflict, WFP has remained operational with distributions of food to hospitals and families hosting displaced relatives. WFP has provided emergency food rations and food vouchers to more than 20,000 displaced people and has food stocks in position for emergency distributions to newly-displaced families, as needs arise.
WFP provides food assistance to more than 600,000 of the most vulnerable people in Palestine; 285,000 in Gaza and 318,800 in the West Bank. Together, WFP and UNRWA provide food assistance to approximately 67 percent of the total population of the Gaza Strip.
To continue its food assistance programmes in Palestine, WFP, which is funded by voluntary contributions, needs an immediate US$20 million until the end of the year. Meeting the needs as a result of the emergency in Gaza will require additional resources.
#                              #                                 #
WFP is the world's largest humanitarian agency fighting hunger worldwide, delivering food in emergencies and working with communities to build resilience. In 2013, WFP assisted more than 80 million people in 75 countries.     
Follow us on Twitter @wfp_media and @wfp_mena
For more information please contact (email address:firstname.lastname@wfp.org):
Colin Kampschoer, WFP/Jerusalem, Tel. +972 25401340, Mob. +972 546773136
Abeer Etefa, WFP/Erbil, Tel. +202 2528 1730 ext. 2600, Mob. +201066634352
Shaimaa Fayed, WFP/Cairo, Tel. +202 25281730/4
Elisabeth Byrs, WFP/Geneva, Tel. +41 22 917 8564, Mob. +41 79 473 4570  
Gregory Barrow, WFP/London, Tel.  +44 20 72409001, Mob.  +44 7968 008474
Bettina Luescher, WFP/New York, Tel. +1 646 5566909, Mob. +1 646 8241112