WFP Emergency Food Distributions Come To A Halt In Yemen Due To Severe Fuel Shortages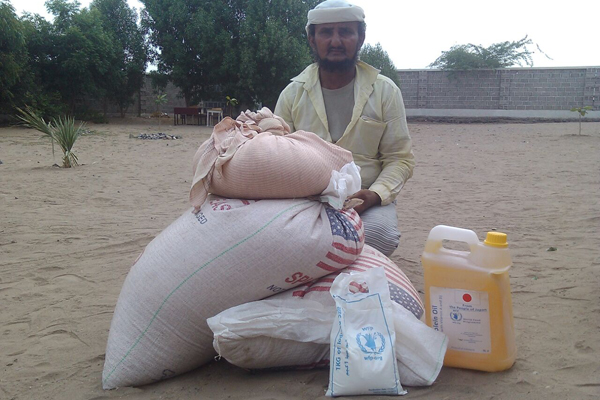 SANA'A/AMMAN – The United Nations World Food Programme today appealed to all parties in Yemen to allow the commercial sector and aid agencies to bring urgently needed fuel and food into the country, where a severe fuel shortage is threatening the delivery of lifesaving assistance to Yemenis hit by the conflict.
In the last two weeks, WFP has reached 700,000 people with emergency food rations in seven governorates, (Aden, Sana'a, Hajjah, Hudayda, Amran, Al Mahwit and Dhamar).  But the fuel shortage threatens to bring the operation to a complete halt.
"We are reaching a point where we can no longer continue to move food from our warehouses to the people who desperately need it," said Purnima Kashyap, WFP Representative and Country Director in Yemen. "This is a country where half the population are considered food-insecure, meaning that many families do not know where their next meal will come from. They cannot absorb any further shocks and it is essential that we continue to reach these families with food."
WFP ran out of fuel earlier this week in western Yemen's Hudayda Governorate and is unable to carry out planned food distributions in support to conflict-affected families and communities. Fuel stocks are also running out in the rest of the governorates where WFP has prepositioned supplies for its humanitarian operations.
WFP is working hard on bringing new and urgently needed fuel supplies to the country to be able to move food assistance but is facing huge challenges due to the deteriorating security situation. WFP urgently needs more than 200,000 litres of fuel to continue to distribute the remaining food supplies already in the warehouses. In-country food stocks are sufficient to feed 1.4 million people for one month.
"We appeal to all parties in Yemen to allow the commercial sector and humanitarian agencies to bring food, fuel and supplies to meet the growing needs of millions of people affected by the current conflict," Kashyap added.
Yemen imports almost 90 percent of its basic food from abroad. WFP is extremely concerned that the impact of traders being unable to import food and transport it around inside the country will affect people's ability to feed their families, especially the poor and most vulnerable.
#                              #                                 #
WFP is the world's largest humanitarian agency fighting hunger worldwide, delivering food assistance in emergencies and working with communities to improve nutrition and build resilience. Each year, WFP assists some 80 million people in around 75 countries.
Follow us on Twitter @wfp_media, @WFP_MENA
For more information please contact (email address: firstname.lastname@wfp.org):
Abeer Etefa, WFP/Cairo, Mob. +2 01066634352
Jane Howard, WFP/Rome, Tel. +39 06 6513 2321, Mob. +39-346-7600-521
Elisabeth Byrs, WFP/Geneva, Tel. +41 22 917 8564, Mob. +41 79 473 4570  
Gregory Barrow, WFP/London, Tel.  +44 20 72409001, Mob.  +44 7968 008474
Bettina Luescher, WFP/New York, Tel. +1 646 5566909, Mob. +1 646 8241112
Steve Taravella, WFP/Washington DC, Tel. +1 202 653 1149, Mob. +1 202 770 5993