WFP ED And Norwegian PM Highlight Importance Of Girls' Education In Fight Against Hunger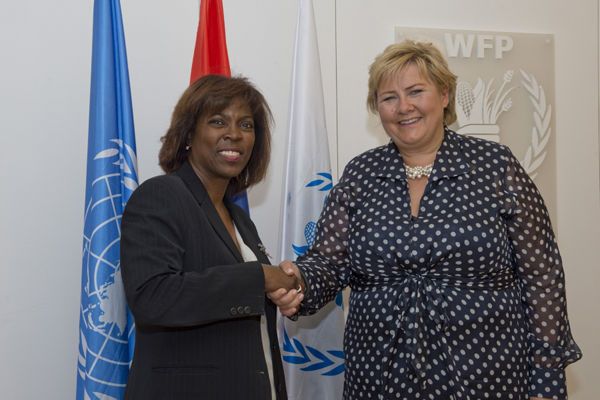 ROME – Education – especially for girls and children in conflict situations – was the focus, when the Executive Director of the United Nations World Food Programme, Ertharin Cousin, yesterday met the Prime Minister of Norway, Erna Solberg, at WFP's Rome headquarters.
During their meeting, they agreed on the essential role of educating girls and women.
Prime Minister Solberg's government has given particular priority to girls' education and works to ensure equal opportunities for girls globally.
"Providing education for girls is so closely linked to success in other fields of development," said Solberg. "For people and nations to break out of the cycle of poverty, we need to invest in the education of girls and women. We know that when you invest in a girl's education, she feeds herself, her children, her community and her nation."
As co-chair of the UN Secretary-General's Millennium Development Goals (MDG) Advocacy Group, the Prime Minister is working to galvanize support ahead of the 2015 deadline for the MDGs. Delivering education to all girls is a vital precondition to achieving the goals, Solberg underlined.
Executive Director Ertharin Cousin explained how WFP invests in the future of girls through gender-sensitive programming and activities such as school meals and take-home rations, which act as an incentive to keep girls in school. In 2013, WFP provided school meals to 19.8 million children, of which 9.6 million were girls, in 63 countries. Take-home rations were given to one million girls and 300,000 boys.
As a follow-up to her appointment as co-chair of the MDG Advocacy Group, Solberg is travelling to South Africa, Malawi and Rwanda at the beginning of July. In Malawi, Solberg will have the opportunity to see how WFP, through joint programmes, provides school meals to improve access to quality education.
During her visit, Prime Minister Solberg also announced a contribution of US$5 million (NOK 30 million) for the WFP operations to feed people forced to flee from their homes by the conflict in South Sudan. The announcement followed the pledge made at the donor conference for South Sudan in May, hosted by Norway.
The contribution represents a lifeline for hundreds of thousands of people affected by fighting that is pushing the country towards a hunger catastrophe. It will be split between WFP's operations in South Sudan and in neighbouring countries, where WFP is assisting more than 350,000 refugees.
Cousin thanked Norway for helping WFP assist some of the most vulnerable victims of the conflict. Cousin further commended Norway for its leadership in the fight for a world with zero hunger.
"Norway is a highly valued partner for WFP," said Cousin.  "'Each year, Norway contributes to our operations around the globe through a Strategic Partnership Agreement that gives us flexible, predictable as well as reliable funding.  This allows us to react in a timely manner to some of the world's major crises in Central African Republic, South Sudan and Syria.  We are both proud and grateful to partner with Norway, whose leadership is truly inspiring," she said.
Norway increased significantly its support to WFP in 2013 – a total contribution of US$69.8 million ranked Norway ninth on the list of governments supporting WFP.
#                              #                                 #
WFP is the world's largest humanitarian agency fighting hunger worldwide, delivering food in emergencies and working with communities to build resilience. In 2013, WFP assisted more than 80 million people in 75 countries.     
Follow us on Twitter @wfp_media and @WFP_NO
For more information please contact (email address:firstname.lastname@wfp.org):
Anne Poulsen, WFP/Copenhagen, Mob. +45 4050 3993
Jane Howard, WFP/Rome, Tel. +39 06 65132321, Mob. +39 346 7600521