WFP Executive Director Commends Republic Of Korea On Taking Up Zero Hunger Challenge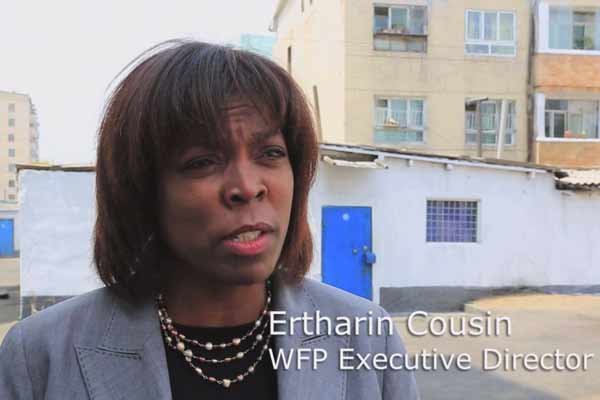 SEOUL – The Executive Director of the United Nations World Food Programme (WFP), Ertharin Cousin, today concluded a two-day mission to the Republic of Korea with a formal launch of the Zero Hunger Challenge in Seoul.
Speaking at a ceremony at Ewha Women's University, Cousin remarked: "The example of the Republic of Korea is proof that we can achieve Zero Hunger in our lifetime. As country that has transitioned rapidly from a recipient of international aid to becoming a donor to other countries in need of assistance, the world can learn a lot from the ROK experience."
During her visit, Cousin and the Minister of Foreign Affairs HE Byungse Yun initialled an agreement formalising the new era of partnership between WFP and the Republic of Korea. She met with high-level officials and commended the country's leadership on their good donorship practices. "The multi-year support we receive from the Republic of Korea means we can implement sustained programmes over time – which is crucial to building more resilient, food secure communities."
WFP operated a food programme in the Republic of Korea for 20 years, from 1964 to 1984, implementing food assistance projects valued at US$ 104 million. Now, since 2000, the country is a significant WFP donor, contributing a total of US$ 140 million to WFP's operations globally to date.
Cousin also received an honorary doctorate at the Ewha Women's University, where she spoke about the importance of women in the global fight against hunger. "We cannot achieve Zero Hunger without women. We know that when we reach women, children are better nourished, they are less likely to die in infancy, they are more likely to go to school. We must partner with universities like Ewha so that gender equality and women's empowerment is understood by future generations," she added.
#                              #                                 #
WFP is the world's largest humanitarian agency fighting hunger worldwide. On average, WFP reaches more than 90 million people with food assistance in 80 countries each year.
For more informations, please contact (email address :firstname.surname@wfp.org)
Silke Buhr, Regional Spokesperson for Asia, WFP/Seoul, Mob. +66 81 701 9208
Emilia Casella, WFP/Rome, Tel. +39 06 6513 3854,  Mob. +39 347 945 0634
Frances Kennedy, WFP/Rome, Tel. +39 06 6513 3752, Mob. +39 346 7600806
Bettina Luescher, WFP/New York, Tel. +1-646 556 6909, Mob.  +1-646-8241112
Elisabeth Byrs, WFP/Geneva, Tel. +41 22 917 8564, Mob. +41 79 473 4570
Gregory Barrow, WFP/London, Tel.  +44 207 240 9001, Mob.  +44 796 800 8474