WFP Executive Director Demands Safe Access To Vulnerable Civilians In All Communities Inside Syria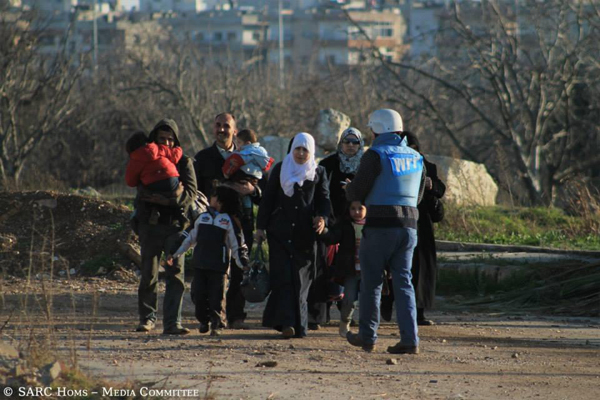 "The last few days have been agonizing for people in the Old City of Homs and the humanitarian aid workers who have risked their lives to get food, medical supplies and other essentials into the City after more than 600 days of besiegement.
"This is a humanitarian operation to help civilians trapped in the Old City.  All sides to the conflict need to guarantee the safety of aid workers trying to help innocent victims.
"Hundreds of women, children, the sick and elderly people have been evacuated after suffering for nearly two years and barely surviving.
 
"We acknowledge this is a step toward easing the siege.  But one-off convoys into besieged areas offer only a minimum of relief.  WFP demands continuous and sustainable access to provide food and to monitor and assess needs.
"The old city of Homs is just one of 40 besieged communities in Syria.  Altogether a quarter of a million people have been cut off from humanitarian aid for months.
"Our teams and our partners strive every day to feed close to 4.25 million people across Syria. We need full access to people in need.  And we urgently need funding to help them in what is WFP's largest, most complex and costly global emergency."
#                              #                                 #
WFP is the world's largest humanitarian agency fighting hunger worldwide. On average, WFP reaches more than 90 million people with food assistance in 80 countries each year.
Follow us on Twitter @wfp_media
For more information please contact (email address: firstname.lastname@wfp.org):
Abeer Etefa, WFP/Cairo, Tel + 202 2528 1730, Mob. +201 06 663 4352
Emilia Casella, WFP/Rome, Tel. +39 06 6513 3854, Mob. +39 347 9450634
Gregory Barrow, WFP/London, Tel.  +44 20 72409001, Mob.  +44 7968 008474
Elisabeth Byrs, WFP/Geneva, Tel. +41 22 917 8564, Mob. +41 79 473 4570
Bettina Luescher, WFP/New York, Tel. +1-646-5566909, Mob.  +1-646-8241112