WFP Executive Director Implores Global Community To Continue Support For Syrian Refugees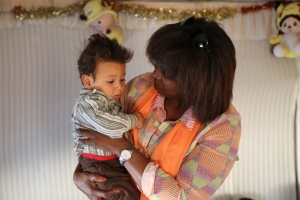 BEIRUT – The Executive Director of the United Nations World Food Programme (WFP) Ertharin Cousin concluded a visit to Jordan and Lebanon on Thursday by calling upon the international community to continue supporting Syrian refugees displaced in neighbouring countries and appealing to the world not to forget this crisis.
Major funding shortfalls forced the agency to cut food assistance by up to fifty percent.  During her four-day visit, Cousin met with Syrian refugees and government officials, bringing attention to the plight of millions facing extreme hardship as a result of these cuts.
"I met young Syrians who because of the conflict may never realize their incredible potential. This conflict robs them of their education, their childhoods and their dreams," said Cousin, further stating, "The conflict is pushing families below the poverty line, into desperation."
"For affected populations in Syria and refugees around the region, WFP food assistance provides stability," she said. "To provide this assistance, we rely on the generosity of the international community. We simply cannot let them down."
Since the beginning of the year, WFP has faced critical funding shortages that forced it to reduce the level of the assistance it provides to some 1.5 million Syrian refugees in Jordan, Lebanon, Turkey, Iraq and Egypt.
Families are taking extreme measures to cope with their difficult circumstances, including removing their children from school so that they can work, incurring large debts and cutting back on the nutritional value and quantity of the food they eat.
Cousin visited Syrian refugees living in makeshift shelters in Lebanon's Bekaa Valley and a family living in an overcrowded apartment in Amman, Jordan. Each of those interviewed told heart-wrenching stories about the increasing difficulties experienced in their everyday attempts to manage with ever shrinking resources. They asked Cousin to remind the world about their suffering, their inability to go home and their need for continued assistance from WFP as well as the international community.
Cousin acknowledged the heavy burden host countries carry. She visited shops where refugees benefit from WFP's electronic voucher programme (e-cards). Through its e-cards, WFP supports over half a million Syrian refugees in Jordan and 770,000 in Lebanon.  The programme has generated income for host communities by injecting over US$1.1 billion into the local economies of the five neighbouring countries. The programme has also created thousands of local jobs in the food retail sector.  
WFP's regional refugee operation immediately needs US$163 million to continue to support desperate refugees in Jordan, Lebanon, Egypt, Turkey and Iraq through October.
In 2014, WFP globally received US$5.38 billion in contributions – 27 percent higher than in 2013. This was in response to an unprecedented number of emergencies in places such as Syria, Iraq, South Sudan, and the West African countries affected by Ebola. However needs are still rising worldwide, outpacing the available funding.
Watch new Video News Release here:
https://www.youtube.com/watch?v=x8ZebYvULIM
Download broadcast quality Video News Release and shot list here:
https://www.hightail.com/download/bXBhcmxYTmFqV0JqQThUQw
#                              #                                 #
WFP is the world's largest humanitarian agency fighting hunger worldwide, delivering food in emergencies and working with communities to build resilience. Each year, WFP assisted some 80 million people in around 80 countries.
Follow us on Twitter @wfp_media
For more information please contact:
Dina El-Kassaby, WFP/Beirut, Mob. +2010 15218882 or +96179302252
Abeer Etefa, WFP/Cairo, Mob. +20166634352
Jane Howard, WFP/Rome, Tel. +39 06 65132321, Mob. +39 346 7600521
Gregory Barrow, WFP/London, Tel.  +44 20 72409001, Mob.  +44 7968 008474
Bettina Luescher, WFP/Geneva, Tel. +41 22 917 8564, Mob. + 41-79-842-8057
Gerald Bourke, WFP/New York, Tel. +1-646-5566909, Mob.  +1-646 525 9982
Steve Taravella, WFP/Washington DC, Tel. +1 202 653 1149, Mob. +1 202 770 5993