WFP Executive Director, With Zero Hunger Agenda, Attends World Economic Forum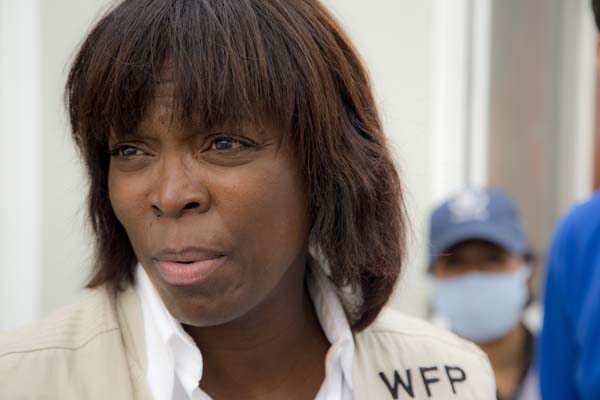 ROME– The Executive Director of the UN World Food Programme (WFP), Ertharin Cousin, will attend the World Economic Forum annual meeting in Davos Switzerland from today.
At Davos 2017, the World Food Programme will present Steps to Zero Hunger, a roadmap of concrete collective actions required to achieve Sustainable Development Goal (SDG) 2 – ending world hunger – by 2030.
The World Economic forum is a unique event where innovative ideas and partnerships are born, and it presents an important opportunity to advocate for the needs of nearly 800 million people suffering from chronic hunger.    
In partnership with UNICEF and Project Everyone, WFP will host the official launch of the year-long #HealthyNotHungry campaign that will shine a spotlight on SDGs 2 and 3 and generate momentum for hunger and health solutions.  Throughout the year WFP is convening regional advocacy events featuring star chefs, policy makers, business leaders, food bloggers and individuals committed to ending hunger.
As a leader in the innovative use of cash transfers, including the use of iris-scan technology, WFP is also supporting the World Economic Forum presentation of the Principles of Humanitarian Payment Systems, and Cousin will take part in the panel.
Cousin will also introduce the Global Impact Challenge, with Singularity University, to call for radical innovations in the fight against hunger.
#                              #                                 #
WFP is the world's largest humanitarian agency fighting hunger worldwide, delivering food assistance in emergencies and working with communities to improve nutrition and build resilience. Each year, WFP assists some 80 million people in around 80 countries.
Follow us on Twitter @wfp_media  
For interview requests in Davos:
Jessica Andrews, WFP/Rome, Mob. +39 342 648 1694 Jessica.Andrews@wfp.org
For more information please contact (email address: firstname.lastname@wfp.org):
Jane Howard, WFP/Rome, Tel. +39 06 65132321, Mob. +39 346 7600521
Bettina Luescher, WFP/Geneva, Tel. +41 22 917 8564, Mob. + 41-79-842-8057
Gregory Barrow, WFP/London, Tel.  +44 20 72409001, Mob.  +44 7968 008474
Gerald Bourke, WFP/New York, Tel. +1-646-5566909, Mob.  +1-646 525 9982