WFP, FAO and IFAD Welcome Ambassador David Lane on Tanzania Food Security Tour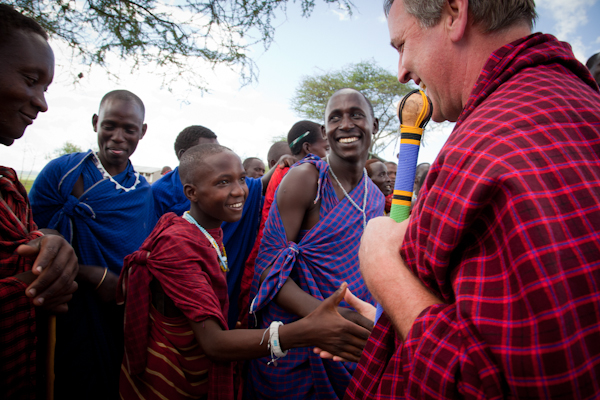 U.S. Ambassador to the UN Food and Agriculture Agencies in Rome has completed a one-week tour of WFP, FAO, IFAD and USAID projects throughout Tanzania.
DAR ES SALAAM — Ambassador David J. Lane, the U.S. Representative to the United Nations food and agriculture agencies based in Rome, visited Tanzania last week to see firsthand how the U.S. government is working together with WFP, the Food and Agriculture Organization (FAO) and the International Fund for Agricultural Development (IFAD) to support Tanzanian smallholder farmers, business and the government in improving the food security situation in the country.
From January 7 to 12, the ambassador's trip took him to rural communities in the regions of Arusha and Kilimanjaro, and to Mkruranga District in the Southern Growth and Agricultural Corridor (SAGCOT). Following Tanzania, the group departed for Malawi where they observed similar projects from 13-15 January.
"With support from the United States, two of WFP's top priorities in Tanzania are improving food security and helping develop commercial opportunities for small shareholder farmers," said WFP Country Representative to Tanzania Richard Ragan. "Ambassador Lane's visit was an opportunity for him to witness the progress Tanzanians have made in this area. Significant work remains but so far the results are very exciting."
Accompanied by seven print and radio journalists from Africa and Europe, Ambassador Lane visited WFP-sponsored Food for Assets Projects in Leki Tatu and Sakila Village, a Food for Education project at Arkatan Primary School, Monduli District, and a Purchase for Progress farmers' group in Kware Village, Hai District.
Additionally, the group met with farmers' groups supported by USAID/Feed the Future's Tanzanian Agricultural Productivity Program (USAID-TAPP); a Food for Progress dairy production program supported by the United States Department of Agriculture (USDA) and Land O'Lakes; FAO-supported projects on cassava growing; and an IFAD agricultural marketing systems development project.
"The communities and projects that we visited over the past week are proof that, despite the challenges we face, investing in smallholder agriculture can substantially improve food and nutrition security and help local economies thrive," Ambassador Lane said at a news conference in Dar es Salaam as the visit ended on 12 January. "Tanzanian commitment to enacting agribusiness-friendly policies and increased public spending for agricultural growth will encourage private investment — including by smallholder farmers themselves — and ultimately help transform Tanzania into a bread basket for the region."
For a selection of images of the Ambassador's visit, click here.