WFP Food Assistance Supports Successful Treatment Of People Living With HIV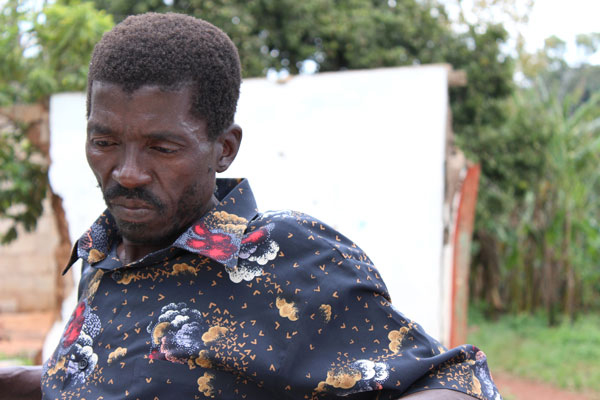 Statement by WFP Executive Director Ertharin Cousin on World AIDS Day

ROME – We believe that food is life, and this World AIDS Day (1 December) the United Nations World Food Programme (WFP) is celebrating the work we do with our partners around the world to bring food assistance to more than 1.3 million people living with and affected by HIV and tuberculosis in 31 countries.
They are people like farmer Sabelo Simelane  in Swaziland. After testing HIV positive and developing AIDS in 2011, Sabelo began to lose weight. He had difficulty working in his fields and could not support his family.  
After entering hospital, Simelane was enrolled in the 'Food by Prescription' programme, which provides food to patients along with nutrition counselling and other support. People living with HIV have higher nutrition needs. Every month, he took home a bag of nutrient fortified corn soya blend. To promote general food security, people on the programme also receive a household ration of maize, pulses, and vegetable oil.  After reaching a healthy weight, he was discharged from the programme and today supports his family with his crops, which include vegetables, providing him and his family with diet diversity.
Along with our vision of a world with Zero Hunger, WFP supports the UNAIDS vision of "Zero new HIV infections, Zero discrimination and Zero AIDS-related deaths."  We are working to integrate food and nutrition support as part of a comprehensive treatment, care and support package for HIV and TB.
WFP's food and nutrition assistance is a way to encourage people to start their treatment and stick with it.  This assistance reduces negative side effects and increases people's chances of recovery. Malnourished people living with HIV are two to six times more likely to die when starting antiretroviral therapy (ART) compared to people with optimal nutritional status.
Support from donors such as the United States President's Emergency Plan for AIDS Relief (PEPFAR), has made a huge difference. In 2011, PEPFAR contributed US$56 million for a five-year WFP programme in Ethiopia.  Although WFP had been assisting people living with HIV/AIDS in Ethiopia since 2003, the PEPFAR contribution enabled a new dimension: people now have the ability to address their households' food and nutrition requirements and send their kids to school.  
Still, there are many hurdles yet to overcome. More than 13 million of the approximately 35 million people living with HIV now have access to antiretroviral therapy. However, this represents only 37 percent of people living with HIV. Sub-Saharan Africa remains the most affected region, with approximately 70 percent of all people living with HIV living there.
The UNAIDS joint programme, of which WFP is a Cosponsor,  has contributed to a global reduction in the overall number of new HIV infections by 38 percent from 2001 to 2012, and a decline in the number of deaths from AIDS by 35 percent from 2005 to 2012.   
Through continued collaboration in food security and nutrition – we should strive not only to sustain progress made in support of our shared vision of "Zero new HIV infections, Zero discrimination and Zero AIDS-related deaths," but also go beyond progress to the achievement of Zero Hunger itself.
[1] Name Changed
#                              #                                 #
Sabelo Simelane's story can be read online here:
http://www.wfp.org/stories/swaziland-nutrition-advice-helps-farmer-win-…
To read more about WFP's programmes in Ethiopia supported by PEPFAR/USAID, read:
https://www.wfp.org/node/3449/3347/644225
#                              #                                 #
WFP is the world's largest humanitarian agency fighting hunger worldwide, delivering food assistance in emergencies and working with communities to improve nutrition and build resilience. In 2013, WFP assisted more than 80 million people in 75 countries.
Follow us on Twitter @wfp_media
For more information please contact (email address: firstname.lastname@wfp.org):
Elisabeth Byrs, WFP/Geneva, Tel. +41 22 917 8564, Mob. +41 79 473 4570
Stephanie Savariaud, WFP/Addis Ababa, Tel. +251 11 5515188, Mob + 251 911 201976
Steve Taravella, WFP/Washington DC, Tel. +1 202 653 1156, Mob. +1 202 770 5993
Gregory Barrow, WFP/London, Tel.  +44 20 72409001, Mob.  +44 7968 008474
Emilia Casella, WFP/Rome, Tel. +39 06 6513 3854, Mob. +39 347 9450634