WFP Food Reaches Donetsk After Months Of Restricted Humanitarian Access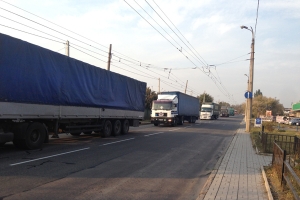 KIEV – The United Nations World Food Programme (WFP) is sending food to the non-government-controlled area in Donetsk city in eastern Ukraine for the first time since all humanitarian activities were suspended there three months ago.
Two truck convoys, carrying enough food for nearly 16,000 people for one month, reached Donetsk over the past five days.
"This food will help people who have been displaced by the conflict, who have lost their jobs and left their homes, and who have been deprived of humanitarian assistance for the past three months," said WFP Head of Office in Ukraine Giancarlo Stopponi.
More convoys bringing food are being planned so that the total number of vulnerable people to receive assistance will be 20,000. The food will be distributed through WFP's partner, the international non-government organization People in Need.
During the last three months, WFP continued to provide food assistance to vulnerable people in government-controlled areas of both Donetsk and Luhansk, including areas near the frontline and in buffer-zone villages.
As another harsh winter approaches, the humanitarian community is concerned about the needs of the most vulnerable people, especially those who had to flee their homes.
Humanitarian organizations face major challenges in getting access to the most vulnerable of an estimated 5 million people affected by the conflict that began in the region in April 2014.
#               #                 #
WFP is the world's largest humanitarian agency fighting hunger worldwide, delivering food assistance in emergencies and working with communities to improve nutrition and build resilience. Each year, WFP assists some 80 million people in around 80 countries.
Follow us on Twitter @wfp_media and @wfp_ukraine
For more information please contact (email address: firstname.lastname@wfp.org):
Abeer Etefa, WFP/Cairo, Mobile. +2 010 6663 4352
Deborah Nguyen, WFP/Kiev, Tel. +380 (98) 064 1073
Jane Howard, WFP/Rome, Tel. +39 06 65132321, Mob. +39 346 7600521
Gregory Barrow, WFP/London, Tel. +44 20 72409001, Mob. +44 7968 008474
Bettina Luescher, WFP/Geneva, Tel. +41 22 917 8564, Mob. + 41-79-842-8057
Gerald Bourke, WFP/New York, Tel. +1-646-5566909, Mob. +1-646 525 9982