WFP Food Reaches Luhansk After Months Of Restricted Humanitarian Access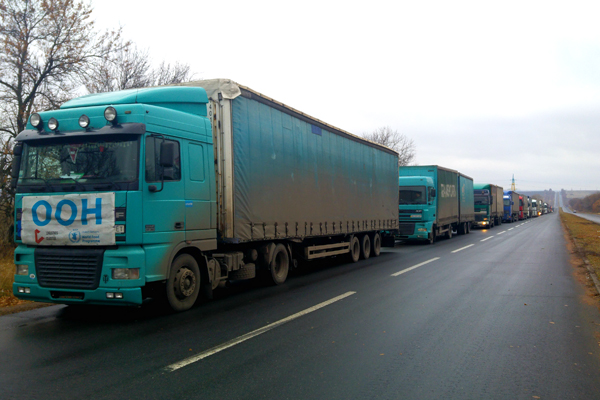 KIEV – The United Nations World Food Programme (WFP) today delivered food to non-government controlled areas of Luhansk in eastern Ukraine for the first time since the suspension of humanitarian activities four months ago.
A 12-truck convoy reached Luhansk earlier this week carrying enough WFP food supplies to feed more than 7,000 people for one month. More convoys bringing food to Luhansk are planned, with the next one scheduled to arrive later this week. The convoys were organized by the WFP Logistics Cluster.*
"The conflict has displaced hundreds of people in Luhansk; they fled their homes, left their jobs and have no means of support other than external assistance that they had been deprived of for four months," said WFP Head of Office in Ukraine Giancarlo Stopponi.
WFP did not have access into non-government controlled areas since the end of July 2015.
WFP is seeking to provide food assistance to more than 100,000 people affected by the conflict in non-government controlled areas in both Luhansk and Donetsk regions by the end of 2015.
In Luhansk, the food will be distributed through WFP's partner, the international non-government organization (NGO) Mercy Corps, while in Donetsk the international NGO People In Need will carry out distributions. WFP is targeting the most vulnerable people affected by the conflict, including elderly and disabled people as well as single-parent households.
In government-controlled areas of both Donetsk and Luhansk, including areas near the front-line and in buffer-zone villages, WFP has continued to provide assistance over the past four months. WFP delivered food for over 20,000 people last month in non-government controlled areas in Donetsk, after humanitarian access to the area resumed.
Still, humanitarian organizations face major challenges in gaining access to the most vulnerable among an estimated 5 million people affected by the conflict that started in the region in April 2014.
As another harsh winter begins, WFP is concerned about the growing needs of the most vulnerable conflict-affected people; especially those who had to flee their homes. WFP is prepared to respond to the needs of the affected population.
#               #                 #
WFP is the world's largest humanitarian agency fighting hunger worldwide, delivering food assistance in emergencies and working with communities to improve nutrition and build resilience. Each year, WFP assists some 80 million people in around 80 countries.
Follow us on Twitter @wfp_media and @wfp_ukraine
For more information please contact (email address: firstname.lastname@wfp.org):
Abeer Etefa, WFP/Cairo, Mobile. +2 010 6663 4352
Deborah Nguyen, WFP/Kiev, Tel. +380 (98) 064 1073
*An earlier version omitted this sentence