WFP Intent On Continuing Yemen Operations Amid Growing Political And Security Crisis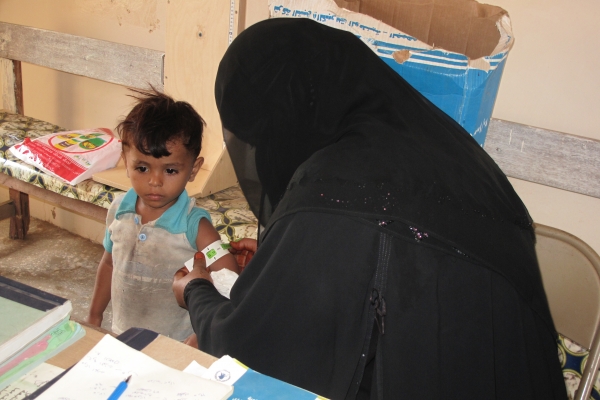 SANA'A – As the political and security crisis in Yemen deepens, the United Nations World Food Programme (WFP) is determined to continue its operations across the country despite clashes between rival factions, the president's resignation and demands in the south for secession.
"In these difficult times, WFP's role becomes even more important," said WFP Yemen Country Director Purnima Kashyap. "Even before this crisis, more than 40 percent of Yemenis were food insecure, 5 million of them severely food insecure. And the current upheavals are certain to hit the poorest and most vulnerable hardest."
WFP is able to reach some of the hardest-to-access parts of the country through its partner Yemeni Non-Governmental Organizations, staffed by people from these areas. Despite the significant security and operational challenges, WFP was able in January to reach about 1 million people.   
"We are very concerned about how people are managing to cope with the latest upheaval. They are likely to be eating less and not as frequently, which can only lead to increased food insecurity and a greater likelihood of malnutrition," Kashyap added. "In such circumstances, humanitarian assistance needs to be stepped up, rather than down."
WFP's operations include providing food assistance to hundreds of thousands of internally displaced people in conflict-affected areas, safety-net and livelihood support – through food- or cash-for-work – for vulnerable and poor families in rural areas, and the prevention and treatment of malnutrition among pregnant and breastfeeding women and young children.
WFP aims to reach 6 million people throughout Yemen between July 2014 and June 2016.
In the coming weeks, WFP plans to start a school feeding programme and provide take-home rations to some 115,000 girls regularly attending school.
Kashyap appealed to donors to continue their support for WFP Yemen and called on neighbouring countries to provide funding "in the interests of regional stability". WFP needs to mobilize US$146 million to support its main relief and recovery operation over the next 12 months.
"The crisis has been further exacerbated by continuing clashes in the south," Kashyap added. "WFP is concerned about the many displaced by the fighting and those who could be displaced if it does not stop."
WFP hopes that all sides can reach a speedy consensus based on previous agreements and the conclusions of the National Dialogue Conference in the interest of the Yemeni people.
#                              #                                 #
WFP is the world's largest humanitarian agency fighting hunger worldwide, delivering food assistance in emergencies and working with communities to improve nutrition and build resilience. Each year, WFP assists some 80 million people in around 75 countries.
Follow us on Twitter @wfp_media  @wfp_mena
For more information please contact (email address: firstname.lastname@wfp.org):
Robin Lodge, WFP/Sana'a, Mob +967 738 611 778
Emilia Casella, WFP/Rome, Tel. +39 06 6513 3854, Mob. +39 347 9450634
Gregory Barrow, WFP/London, Tel.  +44 20 72409001, Mob.  +44 7968 008474
Elisabeth Byrs, WFP/Geneva, Tel. +41 22 917 8564, Mob. +41 79 473 4570
Bettina Luescher, WFP/New York, Tel. +1-646-5566909, Mob.  +1-646-8241112