WFP Lao PDR Celebrates 'Heroes Among Us'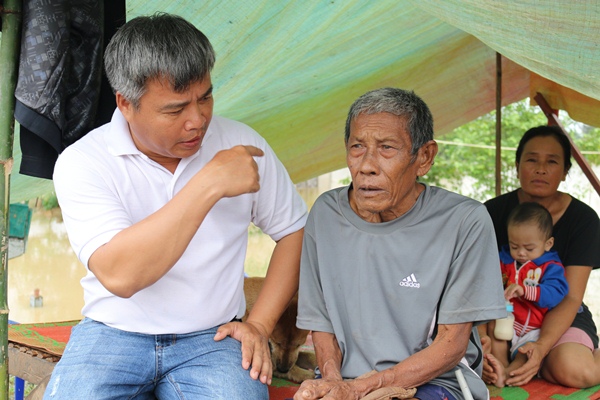 On World Humanitarian Day, WFP joins in bringing attention to heroes who risk their lives to help people in need. In Lao PDR, WFP is working hand in hand with the Government to improve food security and nutrition – especially in the event of natural disasters such as floods.
VIENTIANE – The World Food Programme (WFP) is joining other organizations and agencies around the globe for World Humanitarian Day on 19 August to bring attention to the heroes who risk their lives every day to help people in need.
These humanitarian heroes put themselves in danger transporting food around the world, distributing it in areas besieged by conflict or ravaged by natural disaster, and running the programmes that help millions of children, women and men build their futures.
In the course of serving others, several of our beloved colleagues have been tragically killed in the field. Since the last World Humanitarian Day, Ayman Omar, WFP's head of security for Syria and the region, was killed in a road accident on July 28. He truly embodied the humanitarian spirit that this day celebrates. And in the past year, four truck drivers lost their lives while delivering WFP food: Abdull Ahad in Afghanistan; Willy Wenagbili in Democratic Republic of Congo; Kakooza Abdalla Yusuf in Rwanda and Housien Hammoud in Syria.
"World Humanitarian Day is a day to remember our 'humanitarian heroes'. The colleagues who lost their lives while serving others," said WFP Executive Director Ertharin Cousin. "But it's also a day to celebrate our everyday heroes -- the WFP staff and partners who work tirelessly to help build the future we all want, a future of zero hunger in which everyone will thrive."
In total, there are nearly 14,200 humanitarian heroes working for WFP. They come from 158 nations and are deployed in 99 countries around the world. A small selection of their stories can be found at www.wfp.org/humanitarianheroes.
In Lao PDR, WFP has thankfully never lost a staff member in the course of its humanitarian work.  With 70 staff, including 9 foreigners, WFP is working hand in hand with the Lao PDR government to improve food security and nutrition – especially in the event of natural disasters such as floods.  Air Sensomphone, previously Head of Sub-Office in Luang Namtha province and now Operational Programme Officer in Vientiane, plays an essential role with WFP in coordinating food assistance.  Speaking about the last two and a half years with WFP, Sensomphone feels that: "I am one of the fortunate persons who has had the opportunity to work with WFP in Lao PDR.  In my work I meet many beneficiaries and I feel proud of the support WFP provides.  While I am not happy to see paddy fields and houses flooded, I am pleased when I have the ability to assist those people affected."