WFP Launches Cash Cards For Displaced Families And Syrian Refugees In Iraq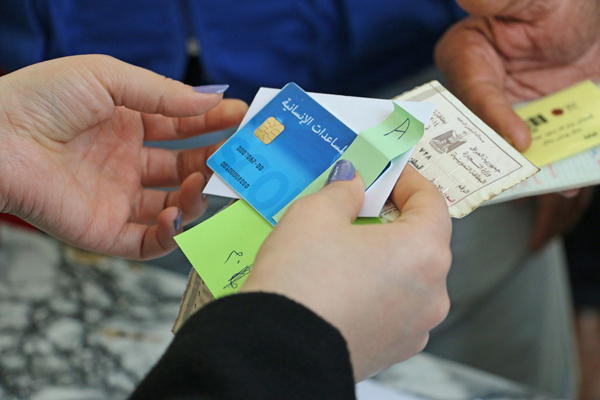 BAGHDAD – The United Nations World Food Programme (WFP) has launched a digital cash card programme to provide food assistance to thousands of displaced Iraqi families and Syrian refugees across Iraq.
Through electronic cards, known as SCOPE cards, WFP is providing both cash and voucher assistance to people in need, allowing them to choose and buy their own food from local shops across the country.    
The SCOPE system allows WFP to provide food assistance in a flexible manner to adapt to the rapidly changing situation in the country. It can be used to redeem cash or as an electronic voucher and in areas where food is not available in the market, it can be used to collect actual food from WFP distribution points. It also supports local Iraqi food retailers.
"This programme is a turning point in WFP's food assistance operations in Iraq. We now use innovative technology to deliver a faster humanitarian response that is reliable, flexible and scalable," said Jane Pearce, Representative and Country Director of WFP in Iraq.
Before receiving their SCOPE cards, individuals register their identification information and fingerprints into WFP's database, which is electronically linked to the cards. Like a debit card, when the SCOPE card is swiped at a shop, it automatically connects to the database to confirm the individual's identity, then the cost of the purchase is deducted from the total balance and recorded on a receipt.
"The SCOPE cards give displaced Iraqi families and Syrian refugees the assurance that they can access food when they need it. It also gives WFP valuable feedback on the types of food people are buying with the cards, which helps us better tailor our programmes to their needs," Pearce added.
So far, WFP has distributed over 12,000 SCOPE cards to displaced Iraqis and Syrian refugees in Iraq. By the end of 2016, WFP aims to reach over one million displaced Iraqis and over 72,000 Syrian refugees with SCOPE cards across the country.
The European Commission's Humanitarian Aid and Civil Protection (ECHO) funded the roll out of WFP's SCOPE system as well as the pilot project in Akre, in the northern Kurdish region's Duhok governorate, where thousands of displaced Iraqis and Syrian refugees are sheltering. To date, ECHO has contributed almost US$32 million to Iraq for its food assistance programmes supporting displaced families and Syrian refugees.
Since January 2014, the conflict in Iraq has triggered mass waves of displacement of more than 3 million Iraqis. WFP is currently reaching 1.5 million displaced Iraqis and 70,000 Syrian refugees each month with food assistance.
#                              #                                 #
WFP is the world's largest humanitarian agency fighting hunger worldwide, delivering food assistance in emergencies and working with communities to improve nutrition and build resilience. Each year, WFP assists some 80 million people in around 80 countries.
Follow us on Twitter @wfp_media
For more information please contact (email address: firstname.lastname@wfp.org):
Dina El-Kassaby, WFP/Cairo, Mobile: +2 010 1521 8882
Abeer Etefa, WFP/Cairo, Mobile: +2 010 6663 4352
Jane Howard, WFP/Rome, Tel. +39 06 65132321, Mob. +39 346 7600521
Gregory Barrow, WFP/London, Tel.  +44 20 72409001, Mob.  +44 7968 008474
Bettina Luescher, WFP/Geneva, Tel. +41 22 917 8564, Mob. + 41-79-842-8057
Gerald Bourke, WFP/New York, Tel. +1-646-5566909, Mob.  +1-646 525 9982