WFP Launches Emergency Operation To Feed People Affected By Violence In East Ukraine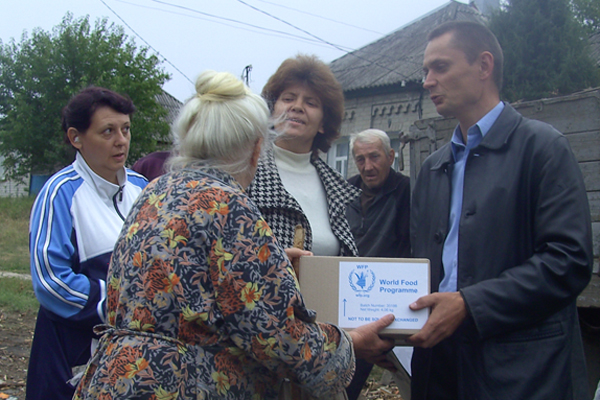 KIEV – In its first operation in Ukraine, the United Nations World Food Programme (WFP) is rolling out food assistance for vulnerable people affected by the conflict, distributing food in transit centres and public shelters in Donetsk and Luhansk in East Ukraine.
Since the beginning of September, WFP in cooperation with local partners has distributed food boxes containing ready-to-eat canned food such as meat, fish, vegetables as well as biscuits, jam and tea. So far, 10,000 daily rations, enough to feed 2,000 people for five days, has been distributed.
WFP plans to scale up its operations to a total of 90,000 daily rations, which would feed more than 18,000 people for five days, before the end of the month. Those being assisted are mainly internally displaced people with serious medical conditions, pregnant women, nursing mothers, the elderly and large, vulnerable families.
"The fighting in the last few months primarily in the cities of Luhansk and Donetsk and surrounding areas has significantly disrupted access to food and basic services. While many have remained, thousand of other families have fled their homes at short notice, often without anything even for the journey," said Carlo Scaramella, WFP Deputy Regional Director for the Middle East, North Africa, Central Asia and East Europe.
"We have procured the food for distribution to those most in need locally to try to inject money into the local economy and we plan to launch a food voucher project that will boost local markets in areas where markets are still functioning properly," he added.
By mid-October, up to 10,000 displaced people will receive WFP's food vouchers  – worth nearly US$500,000 – allowing them to choose and purchase food available in their own communities.
The assistance marks WFP's first response to the crisis in Ukraine and follows a request for assistance from the State Emergency Services of the Government of Ukraine. The UN refugee agency UNHCR has officially counted over 310,000 internally displaced people. The total numbers may be at least double that
A fragile ceasefire is now in place in the eastern region. However, the situation remains extremely volatile and unpredictable.  WFP and its partners are preparing to increase their assistance in view of recent fighting in the southern coast around Novoazovsk and Mariupol and  because winter is approaching.
WFP plans to launch an emergency operation in Ukraine that could feed as many as 120,000 people over the next six months at a cost of US$15 million.
#                              #                                 #
WFP is the world's largest humanitarian agency fighting hunger worldwide, delivering food in emergencies and working with communities to build resilience. In 2013, WFP assisted more than 80 million people in 75 countries.
Follow us on Twitter @wfp_media
For more information please contact
Francesca Caponera. WFP/Kiev, Tel: +380 44 2531860, Mob. +380 96 4637642
Abeer Etefa, WFP/Cairo, Tel +2010 66634352
Emilia Casella, WFP/Rome, Tel. +39 06 6513 3854, Mob. +39 347 9450634
Gregory Barrow, WFP/London, Tel.  +44 20 72409001, Mob.  +44 7968 008474
Elisabeth Byrs, WFP/Geneva, Tel. +41 22 917 8564, Mob. +41 79 473 4570
Bettina Luescher, WFP/New York, Tel. +1-646-5566909, Mob.  +1-646-8241112