WFP Launches Family Meal Photo Competition With Celebrity Chef Jamie Oliver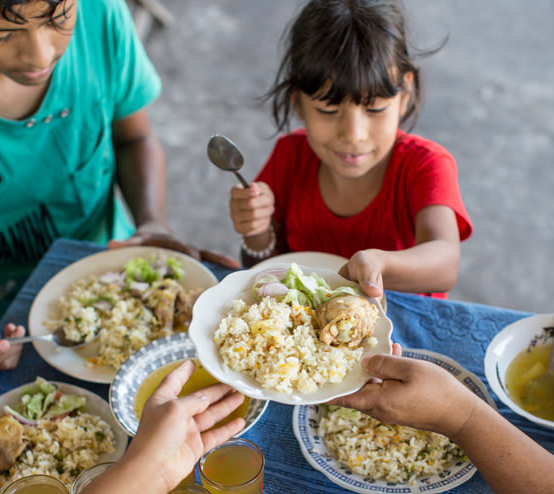 BRUSSELS/ROME – Why is sharing a family meal important to you? In today's rushed world, it is more important than ever to make time to sit down with your loved ones and enjoy a meal, to share stories, dreams and laughter or simply just to be in each other's company.
Today, the UN World Food Programme (WFP) and European Union are shining a spotlight during the coming holiday season on the universal custom of the family meal, by launching the Family Meal Photo Competition, with celebrity chef Jamie Oliver on the judging panel.
From today until 11 January 2015, people around the world are asked to capture why sharing a family meal is important to them. Is it because of the secret family recipe, which has been passed on for generations? Is it because you are together only once a year, and therefore that one family meal is extra special? Or, could it be that you use produce from your garden grown with tender care?
The competition is the latest element of the project "The Family Meal – What brings us together?" a joint initiative of WFP and the European Commission's Department for Humanitarian Aid and Civil Protection (ECHO). Photographer Chris Terry travelled to five countries on three continents to capture the essence of WFP's work: providing family meals worldwide.
"Everyone I photographed was so generous with their time and hospitality.  They invited me into their homes and communities and allowed me to photograph them while they were at a vulnerable time in their lives. They offered to share what little they had with me," Terry says.
"To me, this illustrates that around the world families and communities share a need to eat together. It also reminded me how lucky my own family is to have food regularly, and how important it is to cherish the meals we cook and share together. Catching up on the day and making plans for the next, I love our family meals."
Chef Jamie Oliver, the photo competition's judge, agrees: "Taking the time to share a healthy, nutritious meal together is the heart and soul of families all over the world. The Family Meal Project shows, through incredible photography and inspiring stories, that enjoying a meal with loved ones is a universal thing, happening at dinner tables everywhere. Please snap and share why family meals are important to you."
There will be two winners, one selected by Jamie Oliver and the Family Meal project's photographer Chris Terry, and one by public voting. To enter the international photo competition and to read the rules, please follow this web link: www.familymeal.eu/photo-competition.html
Winners will have their photo included in the travelling Family Meal photo exhibition, which will be displayed in European capitals in 2015. In addition, they will receive a personally signed cookbook by Jamie Oliver, and their photos will be featured on the project's website:  www.familymeal.eu  
#                              #                                 #
WFP is the world's largest humanitarian agency fighting hunger worldwide, delivering food assistance in emergencies and working with communities to improve nutrition and build resilience. In 2013, WFP assisted more than 80 million people in 75 countries.
Follow us on Twitter @wfp_media/@wfp_europe
For more information please contact (email address: firstname.lastname@wfp.org):
Evin Joyce, WFP/Brussels, +32(0)496507432/+32(0)25501620
Inge Zondag, WFP/Brussels, +32 (0) 495 293 776/ +32 (0) 255 016 23