WFP Nutrition Programme In Ethiopia Receives Crucial Contribution From China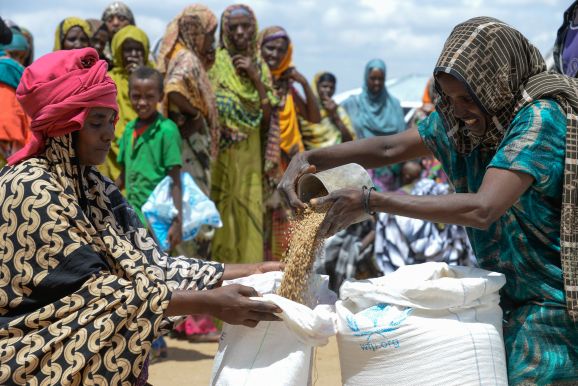 ADAMA, ETHIOPIA – The United Nations World Food Programme (WFP) announced today that it has received a vital new contribution of US$8 million from the Government of the People's Republic of China for WFP's life-saving nutrition support for children and women in Ethiopia.
The funding comes at a crucial time as Ethiopia endures one of the worst droughts in more than 50 years, affecting 5.6 million people. The contribution allows WFP to give specialized treatment to more than 277,000 children and women suffering from moderate acute malnutrition. 
"WFP is extremely grateful to China for stepping in to support the drought response in Ethiopia through this generous donation," said John Aylieff, WFP Representative and Country Director for Ethiopia. "WFP aims to treat 1.2 million people affected by moderate acute malnutrition in 2017, and there is no way we could achieve that goal without substantial contributions like this."
To help lower the prevalence of acute malnutrition, WFP provides fortified nutritious foods for moderately malnourished children, pregnant women and nursing mothers in Ethiopia. 
H.E. Mr. La Yifan, the Chinese Ambassador to Ethiopia, highly commends WFP's significant efforts and contribution towards hunger fighting worldwide: "China has been a long-standing partner with WFP in its humanitarian operations globally. Meanwhile, at a time when Ethiopia, facing severe drought, is in urgent need of food assistance, China calls on international communities to extend helping hands in drought relief for people in need." 
Though Ethiopia has made significant progress in fighting undernutrition, the country's malnutrition levels remain high, with 40 percent of children experiencing stunted growth and 9 percent wasting. 
WFP supports the Government of Ethiopia in its effort to combat hunger and malnutrition, especially through WFP Targeted Supplementary Feeding, which provides specialized nutritious foods to treat those with moderate acute malnutrition. Pregnant women and nursing mothers identified as being moderately malnourished receive fortified blended foods. 
Malnourished children under the age of 5 receive a particularly nutritious peanut-based supplementary food. 
                                                           #               #                 #
WFP is the world's largest humanitarian agency fighting hunger worldwide, delivering food assistance in emergencies and working with communities to improve nutrition and build resilience. Each year, WFP assists some 80 million people in around 80 countries.
Follow us on Twitter @wfp_africa
For more information please contact (email address: firstname.lastname@wfp.org):
Melese Awoke, WFP/Ethiopia, E-mail: Melese.Awoke@wfp.org; Tel 251 115 515188, 251 911 (0) 201981
Ama Nettey, WFP/Ethiopia, E-mail: ama.nettey@wfp.org; Tel 251 115 515188, 251 929 106 420