WFP Participates In The Launch Of "Zero Anemia" Campaign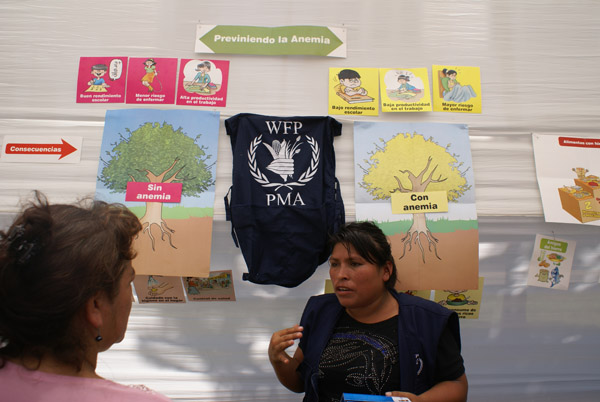 The campaign, sponsored by Peruvian authorities, has the goal to contribute to reduce anemia, that affects 30% of children, and chronic undernutrition, that affects more than 19% of children. The World Food Programme (WFP) promotes the consumption of chicken blood (sangrecita) to fight both these flagella.
WFP in Peru participated in the launching fair of the "Zero Anemia" campaign, which took place at the Zonal Sinchi Rosa Park in Comas, in the northern cone of Lima, on 27 February 2013. Among the participants in the fair were the Mayor of Lima, Susanna Villaran, and the representatives of eight governmental districts who made a commitment during the formal ceremony to combat anemia in their zones. Also there were members of different organizations and entities of the civil society that form part of the Metropolitan Committee for Nutrition and Healthy Feeding.
"Zero Anemia" aims to fight the problems caused by anemia and chronic undernutrition among children, with the promotion of concrete actions in coordination with eight local governments. Mayor Villaran said that Lima is united in the fight against undernutrition and anemia among children aged 6 to 36 months. She also proposed the free distribution of multi-micronutrients as part of the campaign.
During the fair, WFP distributed informative material about anemia and chronic undernutrition, as well as its recipe book "SAY NO To Anemia,". Also WFP offered a degustation of different dishes prepared with chicken-blood, a cheap source of iron, being an excellent way to reduce child anemia.
The general public, government officials, international cooperation, leaders of popular eating centers and committee of the glass of milk, health workers, the press, mothers, fathers and children, learned causes and consequences of anemia and agreed that the chicken-blood was taste-less and odor-less  , turning it into a secret weapon against anemia.
WFP is now promoting its use in the framework of the educative nutritional programme "Promotion of Food Security and Nutrition for Anemia Reduction in Angamos, Ventanilla" with the auspice of the Repsol Fundation.