WFP provides food for families driven from their homes by violent disturbances in Ethiopia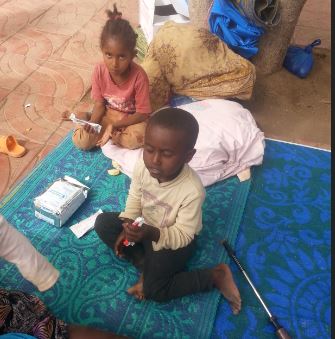 ​ADDIS ABABA – The United Nations World Food Programme (WFP) has begun distributing food to tens of thousands of people seeking temporary shelter following violent protests in the Somali Region of Ethiopia.
​People fled their homes in the eastern region when violent protests erupted on 3 August. Houses, churches, vehicles and shops were burned, damaged or looted, and WFP was forced to suspend all its operations in the Somali Region. At least 80 people were killed, according to media reports.
Food distributions began last week (9 August) for 52,000 people sheltering in three locations in the regional capital of Jijiga city.
With the support of the Government of Ethiopia and the Ethiopian Red Cross Society, WFP is providing rice, pulses, oil and corn soya blend to families, and highly nutritious foods for children and pregnant or nursing mothers at St Mikael church, the Mother Theresa compound and the Roman Catholic mission, as well as at mosques and other centres across Jijiga.
WFP has so far distributed 131 metric tons to more than 15,000 people.
"Working with our partners we hope to provide as much support as possible to those people affected by these disturbances," said Christine Clarence, WFP Emergency Coordinator for the Somali Region.
She added that a humanitarian coordination committee with government and humanitarian partners was working to identify food distribution points for other vulnerable people in Jijiga.
WFP usually provides food assistance to some 2 million food-insecure people in the Somali Region, the centre of WFP operations in Somalia. Another 311,000 drought-affected people receive complementary WFP food assistance under the government-led Productive Safety Net Programme.
While the region has reportedly become calmer in recent days, UN travel restrictions still in place and other WFP operations remain on hold. WFP hopes to resume normal operations shortly.
The United Nations World Food Programme - saving lives in emergencies and changing lives for millions through sustainable development. WFP works in more than 80 countries around the world, feeding people caught in conflict and disasters, and laying the foundations for a better future.
Follow us on Twitter @wfp_media and @wfp_Africa
For more information please contact (email address: firstname.lastname@wfp.org):
Melese Awoke, WFP/Addis Ababa, Mob. +251 911201981
Paul Anthem, WFP/Addis Ababa, Mob. +251 911513817
Peter Smerdon WFP/Nairobi, Mobile: +254 707 722 104