WFP Provides Food To People Fleeing Myanmar Violence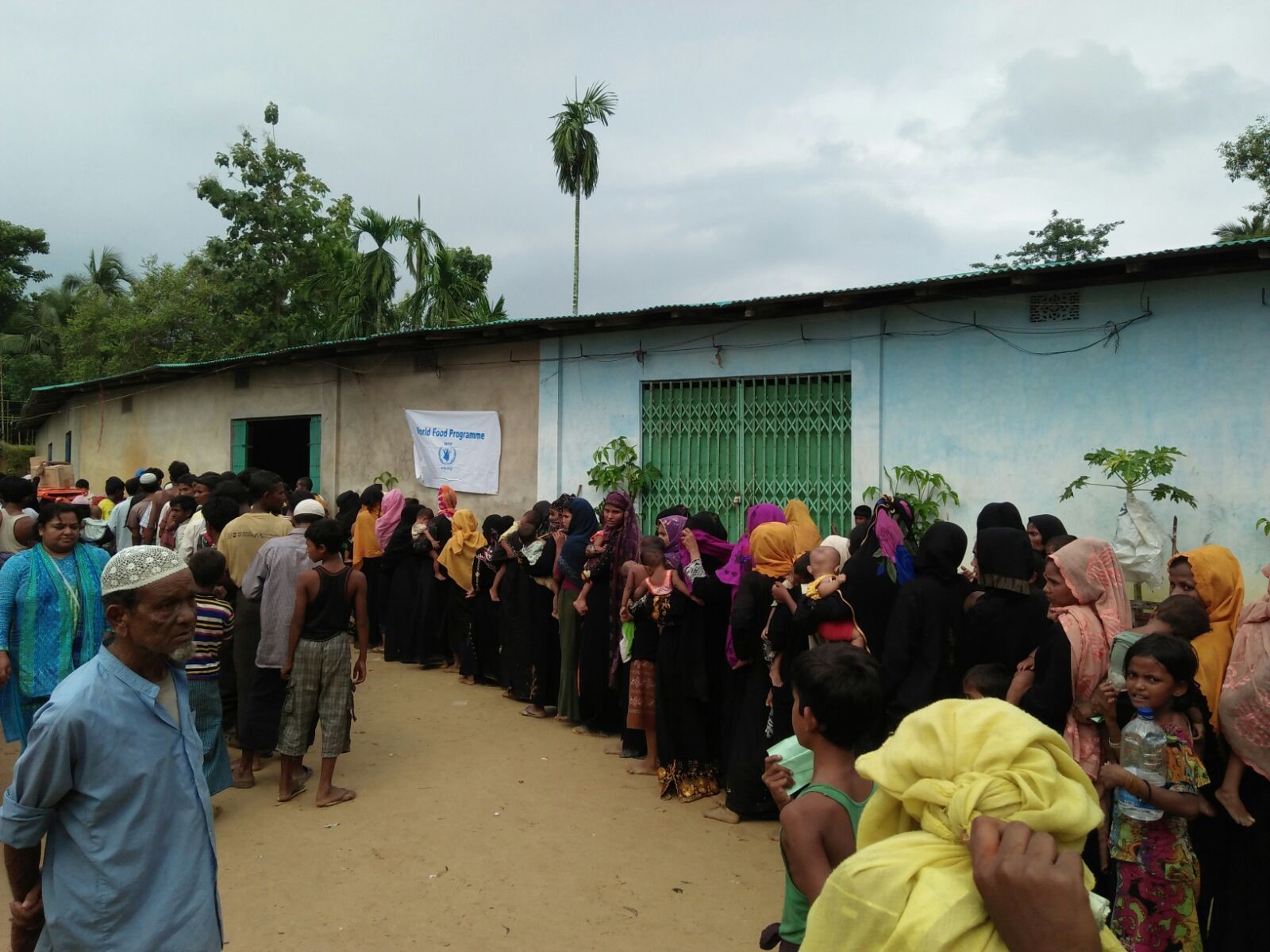 DHAKA – WFP is distributing food to people fleeing into Bangladesh to escape violence in Myanmar's Rakhine State. An estimated 146,000 people have streamed across the border into the district of Cox's Bazar since 25 August.
So far WFP has provided more than 28,800 new arrivals with a three-day supply of high-energy biscuits, while 28,000 people have received a hot meal of khichuri, a kind of rice and lentil dish, through communal kitchens where WFP supplies rice.  Action Contre la Faim, the Red Crescent Society and the International Federation of the Red Cross and Red Crescent Societies are also providing food to people.
WFP is especially concerned about the health of women and children who are arriving hungry and malnourished, and is providing them with special, high-nutrient porridge made of wheat and soya flour. Going forward WFP plans to reach more people and continue providing energy biscuits to families as they arrive, followed by 50kg of rice per month for four months.
"Thousands of people are arriving in Cox's Bazar daily, looking for a space to settle down. Most of the people making the dangerous border crossing are women, children and the elderly. WFP is scaling up its operations to help them, and we call upon the donor community to allow us to continue doing so," said Dipayan Bhattacharya, WFP's Deputy Country Director in Bangladesh.
WFP needs US$ 11.3 million to support the new influx of people arriving, in addition to those already living in camps. WFP has been providing food assistance to approximately 72,500 people in makeshift camps since the previous outbreak of violence in October 2016, plus some 34,000 registered refugees.
#                              #                                 #
About high-energy biscuits
High-energy biscuits are made from wheat flour and are enriched with vitamins and minerals to make a nutrient-dense snack or emergency food. A 100g pack of these cookies provides 450 calories, as well as protein, fat and carbohydrates. They are often supplied in the first days of an emergency when cooking facilities are scarce, but also form a part of many WFP school meal programmes and general food distributions.
About WFP
WFP is the world's leading humanitarian agency fighting hunger worldwide, delivering food assistance in emergencies and working with communities to improve nutrition and build resilience. Each year, WFP assists some 80 million people in around 80 countries.
Follow us on Twitter @wfp_media and @wfp_asia
For more information, please contact (email address: firstname.lastname@wfp.org):
Maherin Ahmed, WFP Bangladesh, Tel. +880-2-9183022 ext. 2164
Silke Buhr, WFP/Bangkok. Mob. +66 (0)81-701-9208
Frances Kennedy, WFP/Rome, Tel. +39 06 65133725, Mob. +39 346 7600806
Bettina Luescher, WFP/Geneva, Tel. +41 22 917 8564, Mob. + 41-79-842-8057
Steve Taravella, WFP/New York, Tel. +1-646-556-6909, Mob. +1-202-770-5993