WFP Reaches Newly Displaced People With Life-Saving Food In Central African Republic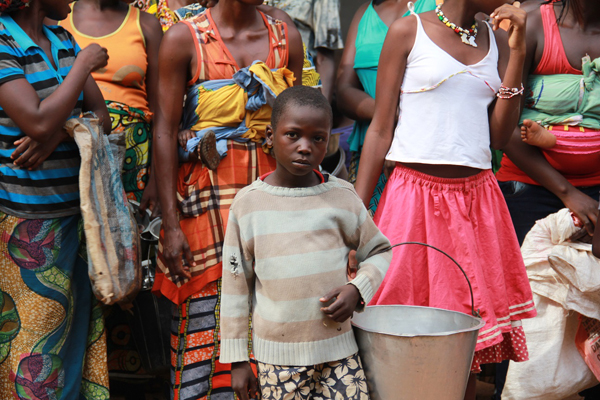 BANGUI – The United Nations World Food Programme (WFP) has reached more than 30,000 newly displaced people in desperate need of food in the Central African Republic's capital after a new surge in violence. The assistance follows WFP being forced to briefly suspend its operation during attacks.
"More than 40,000 people have been forced to flee their homes in a matter of days. The situation remains tense and volatile, but WFP has  been able to reach over the past week those most in need, people who have been cut off from any assistance for days, and living in difficult circumstances in over 20 displacement sites," said Bienvenu Djossa, WFP Country Director in C.A.R.
The latest displacements are a step back for recent efforts to rebuild and return to normalcy.
"It is critical that WFP has the necessary resources to come to the aid of people who are most vulnerable and have been repeatedly affected by a crisis that erupted two years ago," said Djossa. "Even before this latest escalation in violence, about one in four people were in need of urgent food assistance, and were struggling to recover from the widespread disruption the conflict caused to their lives."
    
Nearly 900,000 people are still displaced inside C.A.R or have taken refuge in neighbouring countries since the start of the conflict in 2013. The recent violent upsurge  led to at least 77 deaths and 414 people injured.
Currently, 1.27 million people require food assistance in C.A.R.
WFP and its partners aim to assist 1.2 million people in areas worst-affected by conflict and hunger. WFP urgently requires US$21 million to continue providing vital assistance to families in need through to the end of the year.  
#                              #                                 #
WFP is the world's largest humanitarian agency fighting hunger worldwide, delivering food assistance in emergencies and working with communities to improve nutrition and build resilience. Each year, WFP assists some 80 million people in around 80 countries.
Follow us on Twitter @wfp_media, @WFP_WAfrica
For more information please contact (email address: firstname.lastname@wfp.org):
Sayaka Sato, WFP/Bangui, Mobile +236 72 18 76 97
Bienvenu Djossa, WFP/Bangui, Mobile +236 72 18 75 00
Adel Sarkozi, WFP/Dakar, Mobile + 221 77 637 5964
Jane Howard, WFP/Rome, Tel. +39 06 65132321, Mob. +39 346 7600521
Gregory Barrow, WFP/London, Tel.  +44 20 72409001, Mob.  +44 7968 008474
Bettina Luescher, WFP/Geneva, Tel. +41 22 917 8564, Mob. + 41-79-842-8057
Gerald Bourke, WFP/New York, Tel. +1-646-5566909, Mob.  +1-646 525 9982