WFP Reaches Out To Conflict-Affected People In Gaza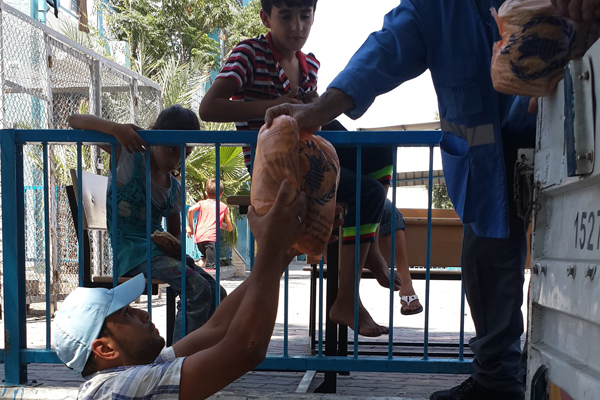 GAZA – Two weeks of escalated violence have left more than 115,000 people in the Gaza Strip in urgent need of food assistance. The United Nations World Food Programme (WFP) has already reached over 100,000 with emergency food rations since the crisis started but is running low on ready-to-eat food stocks as needs continue to increase.
WFP is mobilizing more food to the Gaza strip through local procurement and by airlifting food from the UN Humanitarian Response Depot (UNHRD) in Dubai.
"The conflict in Gaza has affected a large number of people and the food needs rise every day," says WFP Country Director, Pablo Recalde. "Most internally displaced families fled to UN schools used as shelters, while others found refuge with relatives or in government schools."
•    Working closely with its sister agency the UN Relief and Works Agency for Palestine Refugees in the Near East (UNRWA), WFP has been providing emergency food rations to those displaced in UNRWA schools used as shelters
•    WFP has distributed emergency electronic food vouchers to approximately 6,380 displaced Palestinians sheltering with host families. With the vouchers, families can purchase nutritious foods in nearby shops and with the launch of a joint emergency programme by WFP and UNICEF, voucher recipients can also purchase water and sanitary items.  
•    People who have taken refuge in government (non-UNRWA) schools, as well as patients and health workers in hospitals are also receiving a daily emergency food ration.
•    Regular food distributions to the 285,000 people who receive WFP assistance every month in the Gaza Strip are still underway and food has already been pre-positioned for a round of distributions scheduled for the first week of August. WFP and UNRWA together provide food assistance to two-thirds of the total population of the Gaza strip.  
•    WFP needs an immediate US$30 million until the end of the year, US$10 million additional for the emergency response in Gaza and US$20 million to continue its regular programmes in Gaza and the West Bank.
#                              #                                 #
WFP is the world's largest humanitarian agency fighting hunger worldwide, delivering food in emergencies and working with communities to build resilience. In 2013, WFP assisted more than 80 million people in 75 countries.
Follow us on Twitter @wfp_media and @wfp_mena
For more information please contact (email address: firstname.lastname@wfp.org):
Colin Kampschoer, WFP/Jerusalem, Tel. +972 2 5401340 2280, Mob. +972 546773136
Abeer Etefa, WFP/Cairo, Tel. +202 2528 1730 ext. 2600 Mob. +2 010 666 34352
Rossella Fanelli, WFP/Jerusalem, Tel. +972 2 5401340 2210 Mob. +972 54 6773160
Jane Howard, WFP/Rome, Tel. +39 06 65132321, Mob. +39 346 7600521
Elisabeth Byrs, WFP/Geneva, Tel. +41 22 917 8564, Mob. +41 79 473 4570  
Gregory Barrow, WFP/London, Tel.  +44 20 72409001, Mob.  +44 7968 008474