WFP Reduces Operations Around Wau, South Sudan, As Insecurity Grows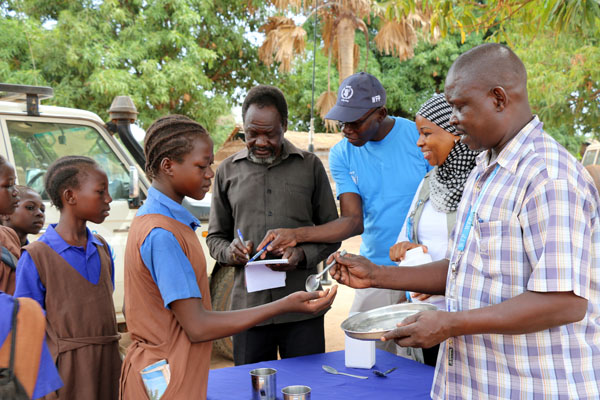 JUBA – The United Nations World Food Programme (WFP) is drawing down operations in parts of former Western Bahr el Ghazal state where deteriorating security is making it unsafe for the agency's humanitarian staff to work as well as endangering the civilians they serve. The upsurge of violence in Wau since 10 April has so far displaced at least 13,500 people.
Food assistance operations elsewhere in the country continue, with WFP and its partners striving to reach more than 4 million people this year.
 
"We regret that we are forced to suspend much of our food and nutrition assistance in Wau and surrounding areas because risks to our staff and their work have increased beyond levels we can accept," said WFP Representative and South Sudan Country Director Joyce Luma.
"We will maintain life-saving assistance to the growing population in the Protection of Civilians area in Wau but in the city and surrounding area we must discontinue emergency distributions, nutritional programmes and school meals," she added. Approximately 40,000 people are sheltering in the Protection of Civilians area in Wau, according to the International Organization for Migration.
Intense insecurity in the region around Wau has increasingly posed immense challenges, limiting relief agencies' ability to reach people with assistance. A recent sharp deterioration in the security environment has now forced WFP to stop almost all assistance in the region.
WFP and humanitarian partners in the region have been subjected to negative rhetoric, harassment and acts of aggression. These include the murder on 10 April of three men contracted by WFP as porters, and the arrests of a WFP staff member and two staff members of partner organizations.
A WFP staff member detained on 13 April during the conduct of his official duties remains in custody despite UN appeals for his release. WFP has contacted authorities in Wau and the South Sudanese capital, Juba, to secure his release; to have those responsible for killing the porters held to account; and to provide security to allow humanitarian staff to work safely with unconditional access to people in need.
UNMISS peacekeepers at the Protection of Civilians area in Wau will provide WFP with security to continue assisting people inside the UN-guarded camp. In other parts of the state, local authorities and security services are not providing WFP with the security needed to continue the organization's life-saving work.
Owing to a lack of security guarantees WFP is relocating food that was already pre-positioned in Wau for distribution later in the year. Food is being transferred to other areas with high food insecurity where it can be safely stored. WFP is also scaling back capacity development activities in the region.
"WFP is committed to assisting the most vulnerable people in South Sudan but we also have an obligation to protect them and our staff from harm," said Valerie Guarnieri, WFP Regional Director for East and Central Africa. "We operate under the humanitarian principles of impartiality and neutrality and will continue to seek firm guarantees from national and local authorities that our staff and our partners can work safely to assist people in need."
The United Nations has warned that humanitarian needs are continuing to rise in South Sudan as its operations have become increasingly dangerous. The killing of the porters in Wau brings the total number of aid workers killed in South Sudan since December 2013 to 82, according to the Office for the Coordination of Humanitarian Affairs. Fourteen aid workers have been killed so far in 2017 compared to 24 in all of 2016.
Up to 4.9 million people – over 40 percent of the entire population of South Sudan – are estimated to be severely food insecure, including 100,000 people experiencing famine conditions. WFP aims to assist some 4.1 million people across the country in 2017.
        #               #                 #
WFP is the world's largest humanitarian agency fighting hunger worldwide, delivering food assistance in emergencies and working with communities to improve nutrition and build resilience. Each year, WFP assists some 80 million people in around 80 countries.
Follow us on Twitter @WFP_SouthSudan @wfp_africa @wfp_media
For more information please contact (email address: firstname.lastname@wfp.org):
George Fominyen, WFP/Juba, Mob. +211 922 465 247
Peter Smerdon, WFP/Nairobi, Tel. +254 20 762 2336, Mob. +254 707 722 105
Gregory Barrow, WFP/London, Tel.  +44 20 72409001, Mob.  +44 7968 008474
Bettina Luescher, WFP/Geneva, Tel. +41 22 917 8564, Mob. + 41-79-842-8057
Emilia Casella,  WFP/Rome, Tel +393421993479
Steve Taravella, WFP/Washington DC, Tel. +1 202 653 1149, Mob. +1 202 770 5993
Gerald Bourke, WFP/New York, Tel. +1-646-5566909, Mob.  +1-646 525 9982