WFP Scales Up Food Assistance In Eastern Ukraine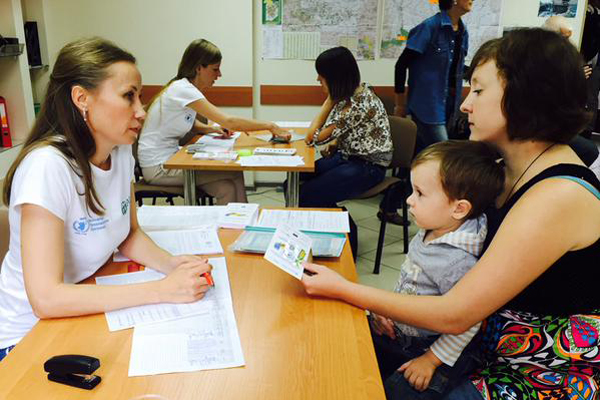 KIEV – The UN World Food Programme (WFP) said today it will scale up its emergency operation in eastern Ukraine to provide 500,000 conflict-affected people in the region with food assistance until the end of the year.
This is almost triple the number of people the food agency has been reaching since November 2014 through food distributions in the Donestsk and Luhansk regions or oblasts. With the current expansion of its assistance, WFP will carry out food distributions in three additional regions: Kharkivska, Dnipropetrovsk and Zaporizhzhya.
 "The ongoing conflict has taken its toll on tens of thousands of people who are in desperate need of help," said WFP Head of Office in Ukraine, Giancarlo Stopponi. "They are either trapped by the conflict or have fled their homes and are now living in difficult conditions."
"We are doing everything we can to deliver food assistance to as many people as possible and we are particularly concerned about small children who are most at risk."
In this new phase of the operation, WFP will be supporting people in schools, orphanages, hospitals and other institutions in non-government controlled areas, as well as providing supplementary food to prevent and combat malnutrition among children under age two, who are identified as most at risk.
WFP will continue to support internally displaced persons in government-controlled areas through cash and voucher transfers and people in non-government controlled areas through food rations.  
It is estimated that more than 1.3 million people have been displaced in Ukraine since the beginning of the crisis last year. WFP urgently needs US$30.3 million to continue to provide assistance through December 2015.
#                              #                                 #
WFP is the world's largest humanitarian agency fighting hunger worldwide, delivering food assistance in emergencies and working with communities to improve nutrition and build resilience. Each year WFP assists some 80 million people in around 75 countries.
Follow us on Twitter @WFP_Ukraine
For more information please contact:
Abeer Etefa, WFP/Cairo, Tel. +202 2528 1730 ext. 2600, Mob. +201066634352, Abeer.Etefa@wfp.org
Reem Nada, WFP/Cairo, Tel. +202 2528 1730 ext. 2610, Mob. +20 0166634522, Reem Nada@wfp.org
Giancarlo Stopponi, WFP/Kiev: Giancarlo.Stopponi@wfp.org
Deborah Nguyen, WFP/Kiev: Deborah.nguyen@wfp.org, +380 (98) 064 1073
Iuliia Korzh, WFP/Kiev, Iuliia.korzh@wfp.org, +380 (97) 271 3913