WFP School Feeding To Reach More Children In Myanmar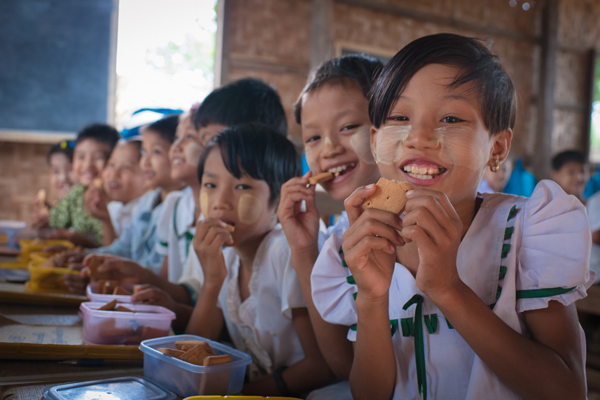 YANGON – More than 227,000 children will receive food assistance at school this academic year in Myanmar, as school feeding programmes expand their reach.
This month, the United Nations World Food Programme (WFP) and the Ministry of Education are to begin providing daily snacks of high-energy biscuits, fortified with vitamins and minerals, at almost 2,300 pre- and primary schools in the most food insecure areas of Chin, Kachin, Rakhine and Shan States, and Magway and Wa Regions.
"The snack is handed out in the morning, before school starts," said Dom Scalpelli, WFP Resident Representative and Country Director. "It helps children's ability to concentrate in class and encourages participation, resulting in increased enrolment, attendance, retention and educational performance."
WFP will expand the number of schools that receive assistance compared to previous years. Biscuits will be provided to 60 new primary schools in Saytoketayar Township, one of the poorest areas in Magway Region and 108 new schools in Minbya, Myebon and Pauktaw Townships in Rakhine State. In addition, school feeding in Kachin will partially resume at 30 primary schools in Myitkyina Township. This will be the first time that schoolchildren there will receive WFP food assistance since the activity was suspended in 2011 due to the conflict. WFP will also provide food assistance for the poorest monastic schools.
The programme was suspended between November 2014 and February 2015 due to a lack of funds. Its resumption had to be postponed again due to the recent floods which caused severe damage across the country and closed many schools.       
"We are very pleased to share the good news that the school feeding programme has resumed and this is made possible thanks to contributions made earlier this year by the Government of Australia and the Japan Association for WFP," said Mr. Scalpelli.
"We also would like to extend our thanks to the Governments of Canada and Switzerland for supporting the programme. We welcome the Ministry of Education's leadership and look forward to our continued collaboration."
Beginning this academic year, the school feeding programme will be implemented by the Ministry of Education. This is a first step in the transition to national management of the programme and the gradual extension of the programme to the entire country beyond 2016.
The Ministry and WFP plan to reach double the number of schoolchildren during the 2016/2017 academic year, compared to this year, reaching up to half a million schoolchildren in 4,000 pre- and primary schools. This, however, represents less than 10 percent of all pre- and primary schoolchildren in Myanmar.
As many schools in Myanmar have been affected by the recent floods, the programme will complement WFP's ongoing flood response, which has reached more than 455,000 people with food assistance. WFP Myanmar is appealing for an additional US$27 million to meet all food needs in the country until the end of the year, including US$12 million for the flood response.
The Myanmar language version of this news release is available at thislink
                                           #                              #                                 #
Find out more about WFP's operations in Myanmar here: http://www.wfp.org/countries/myanmar
WFP is the world's largest humanitarian agency fighting hunger worldwide, delivering food assistance in emergencies and working with communities to improve nutrition and build resilience. Each year, WFP assists some 80 million people in around 80 countries.
Follow us on Twitter @wfp_asia     @wfp_media
For more information please contact:
Ayuka Ibe, WFP/Yangon, Head of Partnerships, Communications & Reports - ayuka.ibe@wfp.org, Mob. +95 9 4500 61236
May Myat Swe, WFP/Yangon, Reports & Communications Officer (For queries in Myanmar language) - maymyat.swe@wfp.org, Mob. +95 9 7955 28912