WFP To Seize Opportunity To Deliver Food Assistance In Wake Of South Sudan Ceasefire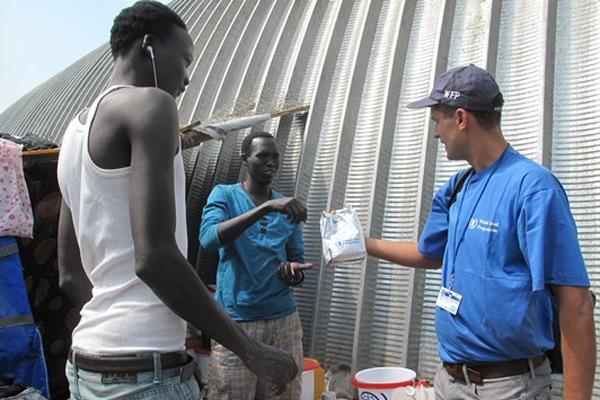 JUBA – As hopes rise for an end to the fighting in South Sudan following the signing of an agreement to cease hostilities, the United Nations World Food Programme (WFP) is poised to seize any window of opportunity to deliver food assistance to areas that have been difficult to reach.
"We hope that the signing of an agreement in Addis will bring fighting to a stop and allow WFP and other humanitarian agencies to provide urgently needed relief to the people affected by this conflict," said WFP Country Director Chris Nikoi. "But it is important to note that humanitarian needs will continue, long after the fighting stops."
So far, WFP has assisted some 178,000 people displaced as a result of the South Sudan crisis, which erupted in mid-December. WFP and its partners have distributed food in many locations, including Juba, Bentiu, Bor, Malakal, Leer, Mingkaman, Yirol East, Yirol West, Mabior, and Aweng. Distributions are planned for the town of Nimule, near the Ugandan border, in the coming week.
WFP remains concerned that the conflict has done so much damage that many people will continue to need food assistance for months – or longer – as they attempt to rebuild their lives. Many homes, food markets and small businesses have been destroyed, and many people have lost their annual harvest, leaving them with nothing at a time of year when they struggle to feed their families.
WFP has launched a US$57.8 million emergency operation to respond to urgent food needs of displaced and conflicted-affected people in South Sudan. Donor contributions are urgently required for this operation and to provide food for the tens of thousands of people who have fled across South Sudan's borders into the neighbouring countries of Uganda, Ethiopia, Kenya and Sudan.
Humanitarian access and looting of food stocks remain a major concern. WFP's warehouses in Malakal have been almost entirely emptied by repeated incidents of looting. This is greatly complicating efforts to assist people affected by the conflict in Malakal, the people seeking shelter in the UNMISS Protection of Civilians (PoC) site in the town and in other parts of Upper Nile State. WFP is urgently working to move more food into Malakal, possibly through airlifts, in order to support the tens of thousands of people displaced by fighting.
While distributions to more than 200,000 people in pre-existing refugee camps in Upper Nile and Unity States continue, the fighting has also hampered delivery of food urgently needed to replenish stocks that will enable this support to continue through the year. Traditionally, WFP takes advantage of the dry season to preposition food in the camps in advance of the rainy season when roads become impassable.
#                              #                                 #
WFP is the world's largest humanitarian agency fighting hunger worldwide. On average, WFP reaches more than 90 million people with food assistance in 80 countries each year.
Follow us on Twitter @wfp_media and @WFP_Africa
For more information please contact (email address: firstname.lastname@wfp.org):
Challiss McDonough, WFP/Juba, Mob. +211 922 465671 or +254 707 722 104
Emilia Casella, WFP/Rome, Tel. +39 06 6513 3854, Mob. +39 347 9450634
Gregory Barrow, WFP/London, Tel.  +44 20 72409001, Mob.  +44 7968 008474
Elisabeth Byrs, WFP/Geneva, Tel. +41 22 917 8564, Mob. +41 79 473 4570
Bettina Luescher, WFP/New York, Tel. +1-646-5566909, Mob.  +1-646-8241112