WFP Sends Condolences At The Death Of King Abdullah Bin Abdulaziz Al-Saud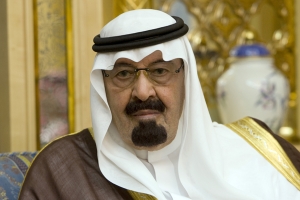 DAVOS, Switzerland - The Executive Director of the United Nations World Food Programme, Ertharin Cousin, has expressed her condolences to the Government and People of the Kingdom of Saudi Arabia at the death of the Custodian of the Two Holy Mosques, King Abdullah Bin Abdulaziz Al-Saud.
"He was a true humanitarian leader, always on the side of the world's hungry poor," Ms. Cousin said. "When we struggled to save lives and to feed people fleeing from conflict or natural disasters, we could always count on the King's generosity at the most difficult moments."
In 2008, under King Abdullah's leadership at the time of the crisis over global high food prices, WFP received US$500 million from Saudi Arabia – the largest single donation that WFP has ever received from a donor country.
Last year, His Majesty stood by the people of Iraq with a US$500 million contribution to United Nations relief efforts for displaced Iraqis fleeing conflict in their country. Of that, WFP received over US$148 million to meet the food needs of the most vulnerable people and this funding continues to support our vital work in Iraq well into this year.
Last month, as WFP struggled because of a shortage of funding to meet the food needs of Syrian refugees in neighboring countries, the Kingdom of Saudi Arabia made a new contribution of a total of US$104 million including US$52 million that allowed WFP to immediately distribute food vouchers so that Syrian refugees did not go hungry in the coldest month of the year.
The December 2014 contribution from the Kingdom also included US$42 million for refugees in Ethiopia, many from South Sudan, and US$10 million for refugees in Kenya.
"King Abdullah Bin Abdulaziz Al-Saud worked tirelessly to improve the lives of his people and people suffering far from his homeland. The world, and especially, the people he helped will never forget his life-saving support," said Cousin. "On behalf of WFP staff and the millions of people he helped us serve around the world, we express our deep condolences to the Saudi people at the loss of a true, outstanding world leader."
In 2009 during the World Economic Forum meeting in Davos, WFP honoured King Abdullah Bin Abdulaziz Al-Saud, naming him as a "Champion in the Battle Against Hunger." The award recognized his support and his generosity that had not only moved the world but also saved many lives.
#                              #                                 #
WFP is the world's largest humanitarian agency fighting hunger worldwide, delivering food assistance in emergencies and working with communities to improve nutrition and build resilience. Each year, WFP assists some 80 million people in around 75 countries.
Follow us on Twitter @wfp_media  & @wfp_mena
For more information please contact (email address: firstname.lastname@wfp.org):
Abeer Etefa, WFP/Cairo, Mob. +2 01066634352
Laure Chadraoui, WFP/Dubai, Mob. +971506502338
Emilia Casella, WFP/Rome, Tel. +39 06 6513 3854, Mob. +39 347 9450634
Gregory Barrow, WFP/London, Tel.  +44 20 72409001, Mob.  +44 7968 008474
Elisabeth Byrs, WFP/Geneva, Tel. +41 22 917 8564, Mob. +41 79 473 4570
Bettina Luescher, WFP/New York, Tel. +1-646-5566909, Mob.  +1-646-8241112