WFP Sends Convoys Into Yemen City Of Taiz To Avert Looming Humanitarian Crisis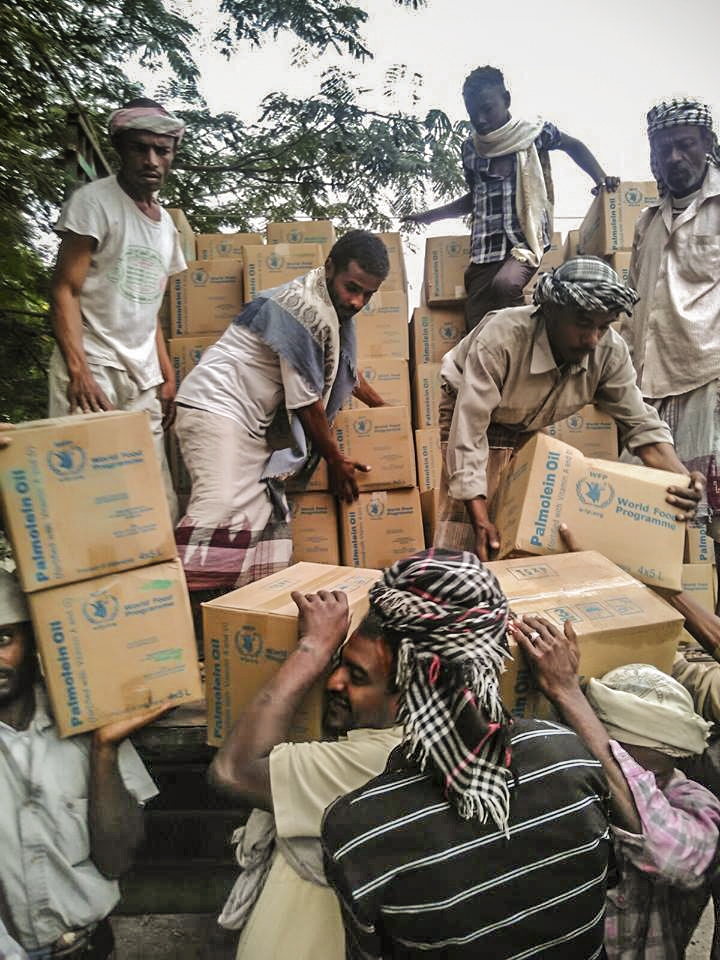 SANA'A – Two convoys of assistance from the United Nations World Food Programme (WFP) have arrived in the central Yemeni city of Taiz with badly needed food supplies for residents living in dire conditions under a virtual state of siege.
The food is enough to feed nearly 145,000 people for one month. Two convoys of 31 trucks carrying various types of food arrived on Tuesday in the city's Salah and al-Qahira areas and a third one is currently on its way to Mudhafar district. 
"We are overcoming enormous access challenges to deliver much-needed assistance into the city where the humanitarian situation has deteriorated over the past couple of months," said WFP's Yemen Representative and Country Director, Purnima Kashyap.
"WFP needs freedom and safety of movement inside the country to reach as many people as possible with food assistance before they fall deeper into hunger." She added that WFP, funded entirely by voluntary contributions, urgently needed funding for its operations too.
In November, WFP delivered food assistance to 10,000 people in the city – a fraction of the total number in need. Due to intense fighting and airstrikes, access by road to Taiz has been extremely difficult. WFP trucks have been stuck at checkpoints and access generally has been very limited. 
But in recent weeks, coordination between all parties on the ground has made it possible for WFP to move its humanitarian assistance into Taiz city. 
"We continue to plead with all parties to the conflict to help us provide life-saving assistance in a timely manner throughout the country," said Muhannad Hadi, WFP Regional Director for the Middle East, North Africa, Eastern Europe and Central Asia. "We seize all opportunities allowing us to deliver more assistance." 
Taiz is one of 10 governorates – out of Yemen's 22 governorates – that are in the grip of severe food insecurity at 'Emergency' level – one step below famine on the five-point Integrated Food Security Phase Classification scale. At least one in five households in the area do not have enough food to lead a healthy life, have lost their livelihoods and are facing life-threatening rates of acute malnutrition.
The conflict has worsened Yemen's already poor food security situation, adding more than 3 million people to the ranks of the hungry in less than a year. According to the UN's 2016 Humanitarian Needs Overview, 7.6 million people in Yemen are severely food insecure – a level of need that requires urgent, external, food assistance. 
WFP has overcome extreme difficulties to reach 1 million people on average every month since the conflict started. WFP has overcome extreme difficulties to reach 1 million people on average every month since the conflict started. In November, WFP delivered food to all 19 governorates that are at Crisis, and Emergency levels of hunger – reaching 1.8 million people.  
#                              #                                 #
WFP is the world's largest humanitarian agency fighting hunger worldwide, delivering food assistance in emergencies and working with communities to improve nutrition and build resilience. Each year, WFP assists some 80 million people in around 80 countries.
Follow us on Twitter @wfp_media 
For more information please contact (email address: firstname.lastname@wfp.org):
Abeer Etefa, WFP/Cairo, Mob +201066634352
Reem Nada, WFP/Cairo, Mob +201066634522
Marwa Awad, WFP/Amman, Mob +962791295719
Jane Howard, WFP/Rome, Tel. +39 06 65132321, Mob. +39 346 7600521
Gregory Barrow, WFP/London, Tel.  +44 20 72409001, Mob.  +44 7968 008474
Bettina Luescher, WFP/Geneva, Tel. +41 22 917 8564, Mob. + 41-79-842-8057
Gerald Bourke, WFP/New York, Tel. +1-646-5566909, Mob.  +1-646 525 9982