WFP Ship With Food Assistance For Yemen Diverted To Hodeidah From Aden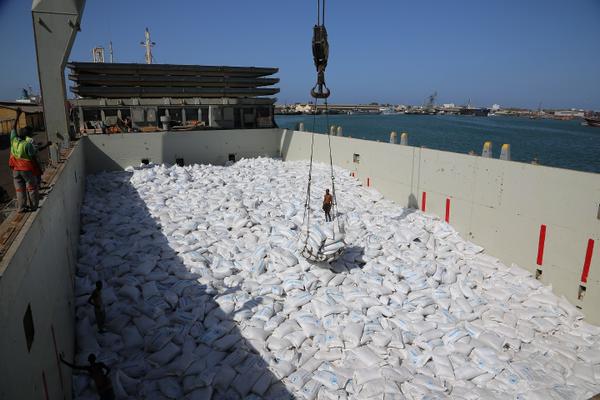 SANA'A/AMMAN – A United Nations World Food Programme (WFP) chartered ship carrying vital food assistance destined for the Yemeni port of Aden was diverted yesterday to the port of Hodeidah following reports of ongoing fighting and security threats.
The MV Amsterdam was on its way from Djibouti carrying over 5,700 metric tons of food including wheat, pulses, vegetable oil and micronutrient powder, which is used to protect young children against malnutrition and anaemia. The rations are enough to feed around 60,000 Yemenis for a month. It was expected to berth in Aden on Saturday when the port authorities issued a security warning that made it change its course.
"We will continue to try to reach Aden and surrounding areas by sending supplies from Hodeidah by road as millions of people are in desperate need of food in areas that have been inaccessible for a long time due to the fighting," said Tahir Nour, WFP Emergency Coordinator for Yemen. "Yemen has hit a critical stage in terms of food availability as there is not as much food in the markets and that is now pushing more people into hunger."
Another vessel, the MV Celine, which is carrying 7,000 metric tons of wheat flour, also docked in Hodeidah on May 31 as previously scheduled. Some 70,000 Yemenis are expected to benefit from this shipment.
WFP plans to send more food by sea in the next few weeks from a base that the agency created in Djibouti to send food and urgently needed humanitarian supplies to Yemen. Transporting and distributing food across Yemen by road remains difficult because of the ongoing clashes.
Since April, WFP has distributed more than 20,000 metric tons of food in nine governorates reaching more 1.5 million Yemenis. More distributions are still needed as the recent conflict added around 2.5 million Yemenis to the 10 million people already considered "food-insecure," who were struggling to get enough food for a normal life even before the conflict began.   
Yemen, the poorest country in the region, imports almost 90 percent of its food from abroad.
#                                 #                                 #
 
WFP is the world's largest humanitarian agency fighting hunger worldwide, delivering food assistance in emergencies and working with communities to improve nutrition and build resilience. Each year, WFP assists some 80 million people in around 75 countries.
 
Follow us on Twitter @wfp_media & @wfp_mena
 
For more information please contact (email address: firstname.lastname@wfp.org):
Abeer Etefa, WFP/Cairo, Mob. +2 01066634352
Mariam Sami, WFP/Amman, Mob. +962 791 295 749
Peter Smerdon, WFP/Rome, Mob. + 39 342 878 4107
Elisabeth Byrs, WFP/Geneva, Tel. +41 22 917 8564, Mob. +41 79 473 4570  
Gregory Barrow, WFP/London, Tel.  +44 20 72409001, Mob.  +44 7968 008474
Bettina Luescher, WFP/New York, Tel. +1-646-5566909, Mob.  +1-646-8241112