WFP Starts Local Production Of Date Bars In Syria For School Feeding Programme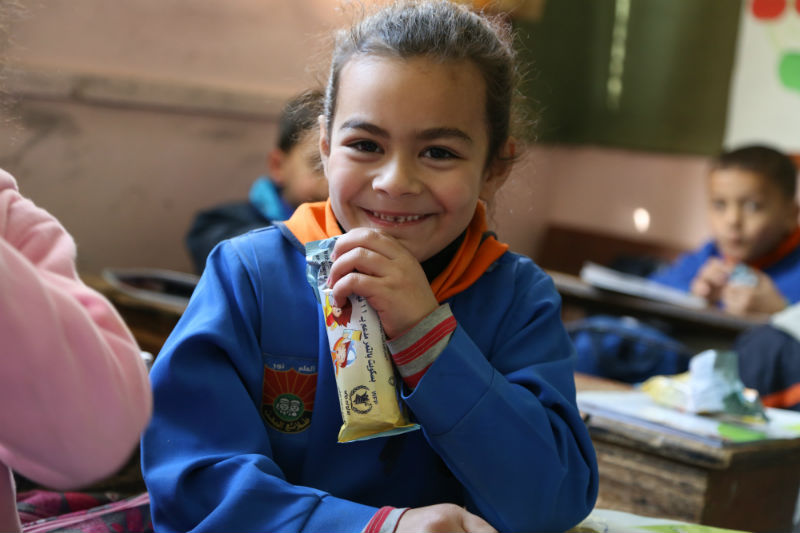 DAMASCUS – The United Nations World Food Programme (WFP) has started producing date bars enriched with vitamins and minerals in war-torn Syria, as part of its school feeding programme for more than 315,000 vulnerable children.
The local production initiative, supported by the European Union, helps keep children in class, invests in their futures while enhancing local food production capacities, creating employment and stimulating the local economy.
 
"Education is vital to equip Syria's next generation with the tools they will need to rebuild their country," said WFP Acting Country Representative, Adeyinka Badejo. "School feeding helps ensure that Syrian children receive the nutritional support they need to cope with the devastating impact of this crisis, while helping restore some sense of normality for many families."
 
Following an assessment of local food production capacities in Syria, WFP is working with Syrian suppliers to boost the food production industry to meet local food needs as well as the requirements of the school feeding programme. Suppliers source ingredients inside the country and employ local people, which ultimately benefits the local economy. 
"This initiative is a milestone in WFP's effort to strengthen and build resilience in Syria and the impact is already evident," Badejo added. "By partnering with the private sector, WFP is ensuring that local capacities are reinforced to meet people's needs and to create job opportunities for many who have lost their sources of income."
 
WFP started its school feeding programme in 2014 in partnership with UNICEF and the Ministry of Education and has plans to expand the programme in 2016 to support 500,000 schoolchildren in areas with high concentrations of displaced families. The programme is currently active in Rural Damascus, Damascus City, Aleppo, Homs, Tartous and Al-Hassakeh.
 
Every month, WFP provides food assistance to 4 million people across the country through food rations containing staple food items like wheat flour, pulses, and canned foods. WFP also provides specialized nutrition products to 240,000 young children inside Syria to fight and prevent malnutrition and micronutrient deficiencies.
 
WFP is entirely funded by voluntary contributions and needs to raise US$167 million to continue assisting displaced families inside Syria for the coming six months.
WFP's school feeding programme inside Syria has been possible thanks to contributions from the governments of Saudi Arabia, France, the United Kingdom as well as the European Commission.
 
Photo material available here 
#                              #                                 #
 
WFP is the world's largest humanitarian agency fighting hunger worldwide, delivering food assistance in emergencies and working with communities to improve nutrition and build resilience. Each year, WFP assists some 80 million people in around 80 countries.
Follow us on Twitter @wfp_media
 
For more information please contact:
Dina El-Kassaby, WFP/Syria, Tel. +2010 15218882
Abeer Etefa, WFP/Cairo, Tel. +2010 66634352
Frances Kennedy, WFP/Rome, Tel. +39 06 65133725, Mob. +39 346 7600806
Gregory Barrow, WFP/London, Tel.  +44 20 72409001, Mob.  +44 7968 008474
Bettina Luescher, WFP/Geneva, Tel. +41 22 917 8564, Mob. + 41-79-842-8057
Gerald Bourke, WFP/New York, Tel. +1-646-5566909, Mob.  +1-646 525 9982