WFP Steps Up Emergency Food Assistance In Gaza As Situation Deteriorates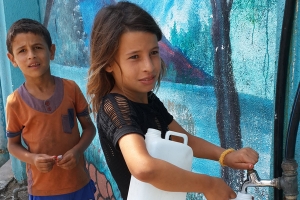 GAZA – Four weeks into the conflict in Gaza, the humanitarian situation is rapidly deteriorating and the United Nations World Food Programme (WFP) is responding to increased needs by stepping up provision of emergency food and other assistance.
"WFP is extremely concerned about the breakdown of the ceasefire," said WFP Executive Director, Ertharin Cousin. "WFP and humanitarian counterparts on the ground continue to remain operational and it is crucial that we have unhindered access to the people who need our help and that civilians are protected."
Working closely with the UN Relief and Works Agency for Palestine Refugees in the Near East (UNRWA), WFP has been providing emergency food rations to those sheltering in UNRWA schools and elsewhere.
To date, WFP has reached more than 255,000 conflict-affected people in Gaza with emergency food assistance. This includes an increase of more than 50,000 people in two days. WFP, UNRWA and partners are constantly identifying new needs and are working to reach additional people. The emergency response includes:
•    Emergency ready-to-eat food for 229,270 displaced people who have taken refuge in
UNRWA schools used as shelters and to 10,647 people in public shelters.
•    Electronic food vouchers to 2,283 displaced families – approximately 13,700 people – who are living with host families. With the vouchers, families can buy nutritious foods in nearby shops and with the launch of a joint emergency programme by WFP and UNICEF, voucher recipients can also purchase water and sanitary items.  
•    A total of 2,039 patients and staff in hospitals continue to receive emergency food rations.
In other developments:
•    A date bar factory that was a partner of WFP for years and provided school children with food in both the West Bank and Gaza was hit on 30 July and has burned down.
•    WFP's largest warehouse in Gaza has been damaged and has only been accessible for short periods during the crisis. WFP is urgently trying to move food to safer locations.
•    WFP, working with the UN Humanitarian Coordinator and partners, has led the activation of the Logistics Cluster, a system by which the humanitarian community coordinates logistical support and humanitarian assistance. The first meeting was held on Wednesday, 30 July. The cluster will be available to facilitate the entry of relief supplies from all humanitarian agencies to Gaza.
•    In addition to continuing providing emergency assistance, WFP in coordination with its humanitarian partners on the ground, was planning to resume its regular food distributions Saturday to 285,000 vulnerable and food-insecure Gaza residents. The breakdown in the ceasefire has forced WFP and cooperating partners to put these activities on hold and focus on the emergency situation.
•    Food for the regular distributions, usually made every two months, has nonetheless been pre-positioned for a round of assistance scheduled for the first week of August. WFP and UNRWA together provide food assistance to two-thirds of the total population of the Gaza Strip.  
•    WFP needs an immediate US$48 million to provide urgent humanitarian assistance to people affected by the conflict in Gaza. In addition, WFP needs US$20 million to continue its regular programmes in Gaza and the West Bank until the end of the year.
#                              #                                 #
WFP is the world's largest humanitarian agency fighting hunger worldwide, delivering food in emergencies and working with communities to build resilience. In 2013, WFP assisted more than 80 million people in 75 countries.
Follow us on Twitter @wfp_media and @wfp_mena
For more information please contact (email address: firstname.lastname@wfp.org):
Rossella Fanelli, WFP/Jerusalem, Tel. +972 2 5401340 2210, Mob. +972 54 6773160
Yasmine Abuelassal, WFP/Jerusalem, Tel. +972 2 5401340 2215 Mob. +972 54 6773170
Jane Howard, WFP/Rome, Tel.+39 06 65132321, Mob. +39 346 7600521
Elisabeth Byrs, WFP/Geneva, Tel. +41 22 917 8564, Mob. +41 79 473 4570  
Gregory Barrow, WFP/London, Tel.  +44 20 72409001, Mob.  +44 7968 008474
Steve Taravella, WFP/Washington DC, Tel. +1 202 653 1149, Mob. +1 202 770 5993