WFP Welcomes Contribution From Spain To Support Humanitarian Air Transport In The Sahel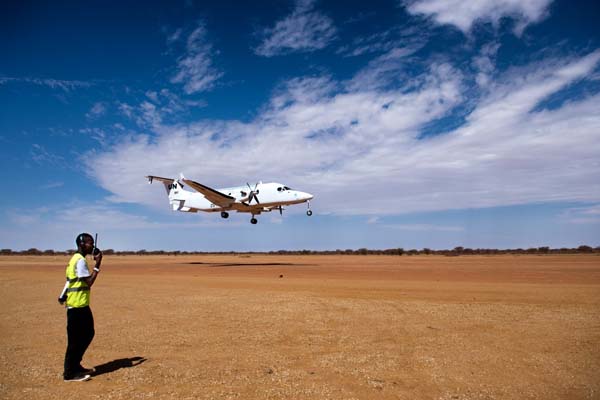 MADRID – The United Nations World Food Programme (WFP) has welcomed a donation from the Government of Spain to support its management of the United Nations Humanitarian Air Services (UNHAS) in Mali, Mauritania and Niger.
The contribution, which amounts to €300,000 equally distributed among the three countries, will help maintain regular air transport between the capitals and the areas where humanitarian assistance is needed. UNHAS transports humanitarian staff working for NGOs, other UN agencies, their partners, as well as officials from donor countries and journalists to reach vulnerable people in remote and insecure areas. Like WFP, UNHAS relies entirely on voluntary funds.
"WFP aviation services are essential in many places where alternative transport is non-existent or insufficient to support life-saving activities carried out by humanitarian organizations," said Eric Perdison, Chief of WFP Aviation. "Spain, among other donors, fully understands our role in providing humanitarian access, and WFP is grateful for the diverse support which Spain provides annually to our operations."
Long distances, poor infrastructure and insecurity pose challenges for road access within Mali, Mauritania and Niger, making air transport the most efficient means for humanitarian staff to reach the communities in urgent need of their assistance. UNHAS also facilitates the movement of essential light cargo, such as medical supplies, specialized nutrition products, and telecommunications equipment.
"In humanitarian crises, the work of UNHAS is vital for humanitarian staff to access the most vulnerable populations, and to ensure safe travel amid often challenging security conditions. We fully support the work of UNHAS and that, therefore, the contributions provided by Spanish citizens are reaching those most in need," said Luis Tejada, director of the Spanish Agency for International Development Cooperation (AECID).
WFP operates flights that link several destinations with the capitals of each of the Sahel countries, facilitating humanitarian access to remote and hard to reach areas. For 2017, UNHAS still requires over US$10 million to fund operations in the Sahel region for the duration of the year.
#                              #                                 #
For more information on UNHAS, please visit http://panorama.wfp.org/unhas-helping-aid-workers-access-people-in-need
For more information on the 8th Global Humanitarian Aviation Conference (GHAC), please visit www.annualghac.com  
WFP is the world's largest humanitarian agency fighting hunger worldwide, delivering food assistance in emergencies and working with communities to improve nutrition and build resilience. Each year, WFP assists some 80 million people in around 80 countries.
Follow us on Twitter @wfp_media  
For more information please contact (email address: firstname.lastname@wfp.org):
Lucía Fernández, WFP/Madrid, Tel +34 672 068 169
Lourdes Melendo, WFP/Madrid, Tel. +34 697 10 52 25