WFP Welcomes Substantial And Timely Assistance To Refugees From The Kingdom Of Saudi Arabia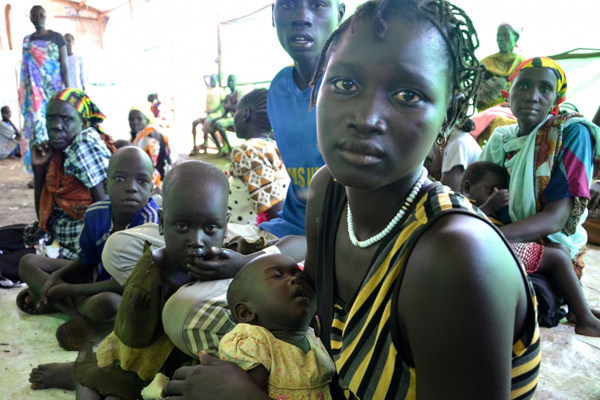 ROME – The United Nations World Food Programme (WFP) welcomes a generous and timely contribution of US$104 million to assist refugees sheltering in countries neighbouring Syria, in Ethiopia and in Kenya, provided by the Custodian of the Two Holy Mosques, King Abdullah bin Abdulaziz Al-Saud.
"These funds will go immediately to help people facing hunger and an uncertain future. We are extremely grateful for this assistance, which comes at a crucial moment for these refugees – all of whom have fled protracted conflict," said WFP's Executive Director Ertharin Cousin. "The compassion and commitment shown by the Custodian of the Two Holy Mosques, King Abdullah bin Abdulaziz Al-Saud will help save the refugees, especially children, from the pain and debilitating effects of hunger."
The contribution includes US$52 million to assist about 1.7 million Syrian refugees who had faced suspension of their food assistance this month, just at the start of another harsh winter; US$42 million for refugees sheltering in Ethiopia, many from South Sudan; and US$10 million to provide nutrition to refugees in Kenya.
Since the Syrian conflict erupted in 2011, WFP has been assisting up to 1.7 million refugees in the neighbouring countries of Lebanon, Jordan, Turkey, Iraq and Egypt as well as providing food assistance to up to four million displaced people inside Syria, despite fighting and problems of access.
In Ethiopia, WFP is supporting some 650,000 refugees, nearly a third of whom have arrived from South Sudan in the last year, since the crisis erupted there.  In Kenya, WFP supports nearly half a million refugees – mostly Somalis – in the Dadaab and Kakuma camps.  In both countries, the refugees are unable to work, grow crops or raise livestock, and have no other options to provide food for their families aside from the assistance that WFP distributes each month. WFP provides regular food rations as well as specialized nutritional support for mothers and young children.
#                              #                                 #
WFP is the world's largest humanitarian agency fighting hunger worldwide, delivering food assistance in emergencies and working with communities to improve nutrition and build resilience. In 2013, WFP assisted more than 80 million people in 75 countries.
Follow us on Twitter @wfp_media
For more information please contact (email address: firstname.lastname@wfp.org):
Abeer Etefa, WFP/Cairo, Mob. +20 1066634352. Tel. +202 2528 1730 ext. 2600
Challiss McDonough, WFP/Nairobi, Mob. +254 707 722 104
Stephanie Savariaud, WFP Addis Ababa, Mob. +251 911 201976
Steve Taravella, WFP/Washington DC, Tel. +1 202 653 1149, Mob. +1 202 770 5993
Elisabeth Byrs, WFP/Geneva, Tel. +41 22 917 8564, Mob. +41 79 473 4570  
Emilia Casella, WFP/Rome, Tel. +39 06 6513 3854, Mob. +39 347 9450634