On World Food Day, WFP says Investment in Nutrition is Key to Unlocking a Better Future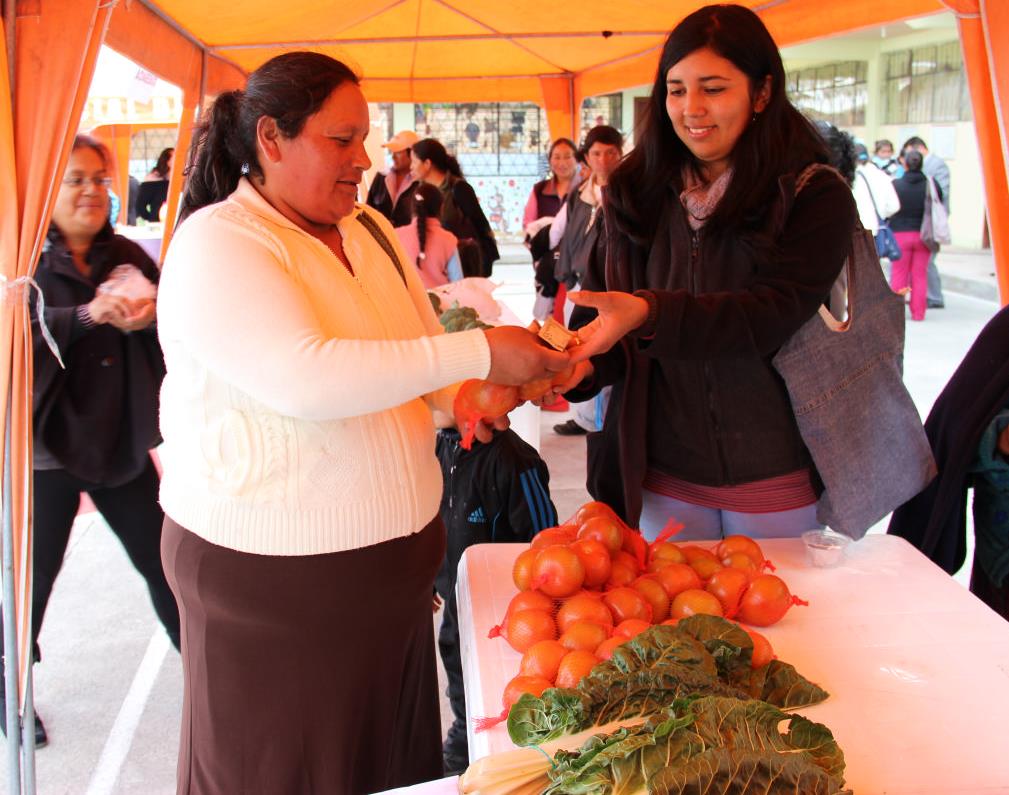 ROME/QUITO – The UN World Food Programme (WFP) is marking World Food Day on 16 October by highlighting the power of nutrition to transform individuals, societies and economies, and the need to make it central to all development efforts.
"Undernourished girls and boys face barriers in health, in school performance and later, in the workplace, which limit their human potential and their capacity to contribute to the societies in which they live," said WFP Executive Director Ertharin Cousin.
"Prioritising nutrition today is an investment in our collective global future.  The investment must involve food, agriculture, health and education systems," she said.
Today some 842 million people - more than one in eight people in the world – suffer from chronic hunger. Yet even more – around two billion people - lack the vitamins and minerals needed to live healthy lives.
If the global community invested US$1.2 billion per year for five years on reducing micronutrient deficiencies, the benefits in better health, fewer child deaths and increased future earnings would generate gains worth US$15.3 billion.
In Ecuador, within many WFP projects the focus is improving diets and developing capacities for vulnerable Colombian refugees and Ecuadorian families with young children. WFP works to empower women, extending their support to female small-scale farmer associations. These associations are headed by women in their respective communities and their goal is to promote local production of nutritious foods.
"The inclusion of vegetables and fruits in children's diets is now a strategic component of all WFP activities in Ecuador," said Deborah Hines, WFP Representative in Ecuador. "Women have an important role regarding nutrition, but the responsibility of guaranteeing a good diet, with fruits, vegetables, local products, is not only theirs," she said. In Ecuador, WFP trains school children, parents, teachers, local government partners and social workers on proper nutrition for young children and mothers. The trainings include lessons on the combination of different food groups, good nutrition, and sanitation practices. Well-targeted trainings can make a big difference to bring about real changes in food consumption habits.
The theme of this year's World Food Day is "Sustainable Food Systems for Food Security and Nutrition."
Providing food assistance to 97 million people worldwide, here are some of the ways WFP focuses on nutrition:
• Rapidly increasing the number of children and new mothers who receive new nutritionally enhanced food products.
• Focusing on the crucial 1,000 day window - from the womb to two years of age – where getting sufficient nutrients and calories is crucial for full growth.
• Stepping up assistance through cash and vouchers when food is available in markets, so consumers can buy more fresh and varied local foods.
• Emphasising dietary diversity and fresh foods in its school feeding programmes, by working with local communities and farmers.
• Working with private partners and research institutes to assess the nutritional impact of providing fortified rice in school meals
• Supporting the creation of a solid evidence base to guide countries in their nutrition policies and strategies, such as the recent Cost of Hunger in Africa study, led by the African Union
WFP celebrates World Food Day with its sister UN food agencies, the Food and Agriculture Organization of the United Nations (FAO) and the International Fund for Agricultural Development (IFAD).  In Ecuador, this date is celebrated along with the National Assembly, various ministries and representatives of civil society. Activities will be implemented in Quito which include nutrition trainings in schools using alternative ways of teaching, including theatre and humour, under WFP guidance.