World Food Programme Executive Director calls for peace and stability in Sudan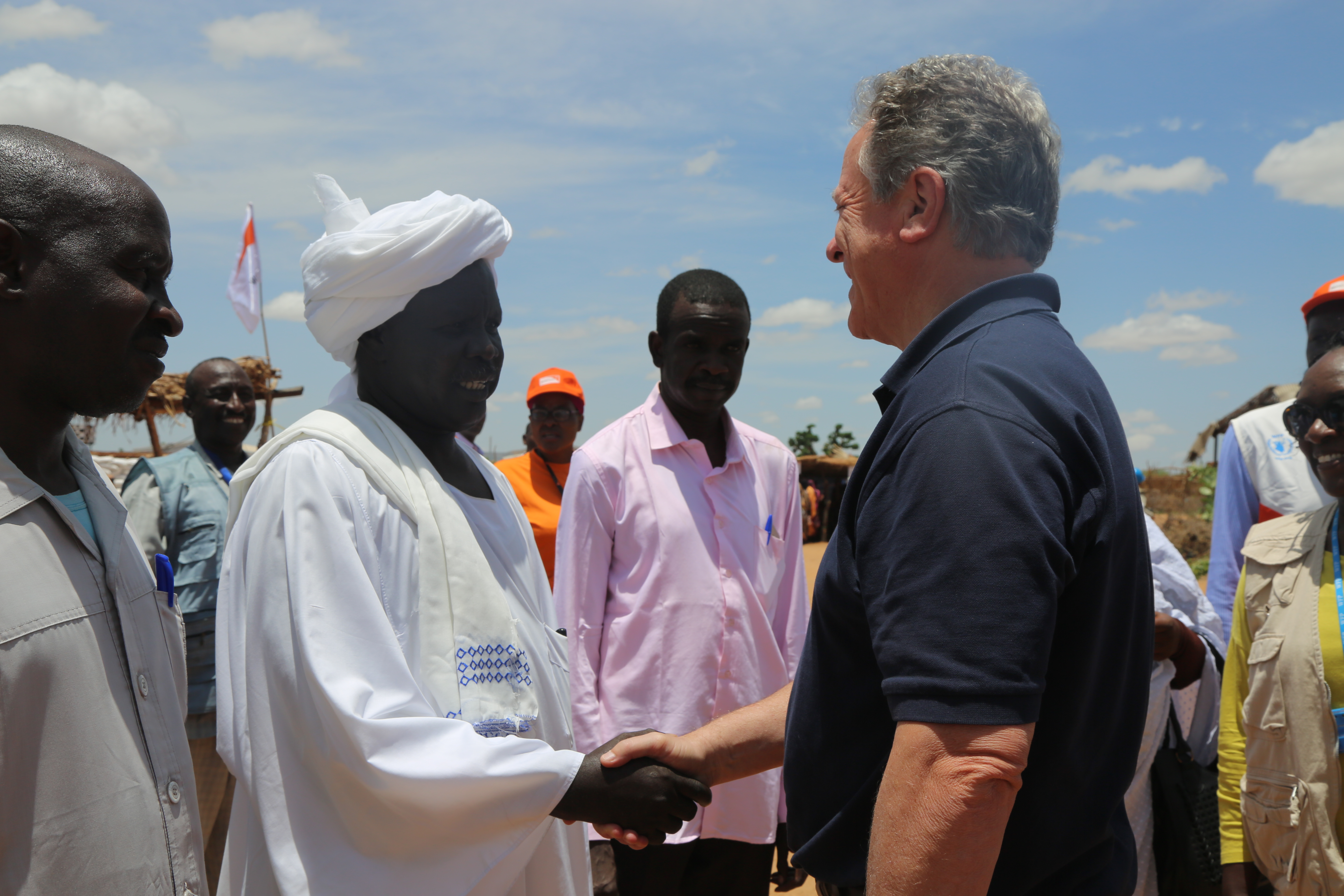 KHARTOUM – The Executive Director of the UN World Food Programme (WFP), David Beasley, today concluded a three-day visit to Sudan, his first to the country since he assumed leadership of the UN food agency in April 2017.
Beasley met ministers and officials in the Government of Sudan to discuss WFP's work and future in the country. He acknowledged Sudan's critical role in promoting stability and food security in the region by hosting refugees as well as facilitating logistics and supply corridors for humanitarian assistance to neighbouring countries.
"This cooperative spirit is putting us on the path towards achieving greater food security not only for Sudan but also for the greater region," said Beasley
 
Throughout his visit, Beasley stressed the importance of peace and stability in Sudan for achieving food security.  "We want to create a success story in Sudan by continuing to help people who have been suffering from conflict and its consequences for many years," said Beasley. "But we also want to see them in a few years providing for themselves and their families, becoming self-reliant."
 
The visit came at a critical time for Sudan, which is experiencing a challenging economic situation that is pushing more people into food insecurity. 
Beasley saw first-hand the situation of over 85,000 displaced people in Otash camp in Nyala, South Darfur, where he spoke to families receiving WFP cash assistance, food and specialized nutritional products for children suffering from malnutrition. Many people have been living in the camp, which was opened in August 2004, for more than a decade, while others have arrived in the past months because of fighting in the Jebel Marra region. 
Displaced community leaders appealed to WFP's Executive Director to carry their voice for peace to the world, so that they can return home to their farmsteads.
While WFP continues to provide food and emergency assistance, the upcoming five-year plan in the country will also focus on helping Sudan eliminate hunger by 2030. "We do not only want to save lives, we want to work with people and help them change their lives," said Beasley. "Our long-term vision is seeing Sudan feeding Sudan. It has the potential to be the food basket of Africa."
 
This year, WFP aims to assist 4.8 million people in Sudan. This includes supporting refugees and displaced families, smallholder farmers to reduce post-harvest losses and reduce the food gap in the lean season; provide cash assistance to poorest families to help buffer the impact of the economic crisis, and find long-term and sustainable solutions to end malnutrition.
#                              #                                 #
The United Nations World Food Programme - saving lives in emergencies and changing lives for millions through sustainable development. WFP works in more than 80 countries around the world, feeding people caught in conflict and disasters, and laying the foundations for a better future.
Follow us on Twitter @WFP_MENA and @WFPGovts 
For more information please contact (email address: firstname.lastname@wfp.org):
Abeer Etefa, WFP/Cairo, Mob. +201066634352
Belinda Popovska, WFP/Khartoum, Tel. +249 9 1200 2000 (ext. 2125), Mob. +249 912158413 
Abdulaziz Abdulmomin, WFP/Khartoum, Tel. +249 183248001 (ext. 2123), Mob. +249 912167055