WFP Executive Director Calls On UN Security Council To Deliver Political Solutions For Peace In Syria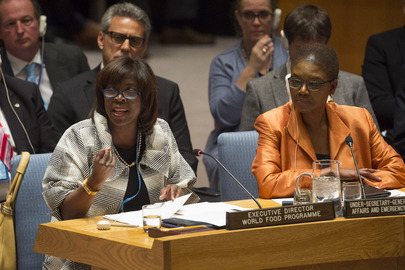 NEW YORK – The Executive Director of the United Nations World Food Programme (WFP) Ertharin Cousin today highlighted in front of the UN Security Council the vital role of food in bringing peace and stability to Syria.
"Without reliable access to food, this region and its children are in danger," she said, saying that people in need of food became easy targets for traffickers and for extremists.
"Until we deliver the political solutions that create peace, we must implement the humanitarian solutions that create hope and stability across the region."
She concluded: "We must maintain essential lifesaving food access and nutrition programmes including the necessary funding."
Cousin appealed to the Security Council and member nations for more money for WFP programmes. Funding shortfalls meant that WFP had been forced to cut the amount of food provided to Syrian families by 30 percent. And assistance for almost a quarter of a million refugees living in absolute poverty in neighbouring countries had been halved.
"When we announced the reductions in Jordan our hotlines were overwhelmed. Thousands of appeal calls come in each day. Calls from families that have exhausted their resources and feel abandoned… by us all. One woman told us, 'I cannot stay… if I cannot feed my children.'"
WFP is funded entirely by voluntary contributions from governments, companies and private individuals.
In 2015, the agency planned to reach 4 million people a month inside Syria and 2.1 million in neighbouring countries, but, said Cousin, funding shortfalls were putting this already limited assistance in jeopardy. "The longer the crisis continues, its victims become ever more vulnerable," she said. Families were making impossible decisions to find and access food, such as marrying off young daughters, or letting children fight in armed groups.
Cousin said the decline in food security and the destruction and weakening of water and health services had created a serious nutritional crisis.
She noted that Security Council Resolution 2165, passed last year, calling for border crossings to be opened, had enabled WFP to reach an additional 528,000 people in need of food.
Cousin spoke at a Security Council briefing also addressed by the Under-Secretary-General for Humanitarian Affairs and Emergency Relief Coordinator Valerie Amos, the United Nations High Commissioner for Refugees António Guterres, and UNHCR's Special Envoy for Refugees Angelina Jolie.
# # #
WFP is the world's largest humanitarian agency fighting hunger worldwide, delivering food assistance in emergencies and working with communities to improve nutrition and build resilience. Each year, WFP assists some 80 million people in around 75 countries.
Follow us on Twitter @wfp_media and @WFP_mena
For more information please contact (email address: firstname.lastname@wfp.org):
Abeer Etefa, WFP/Cairo, Tel. +202 2528 1730 ext. 2600, Mob. +201066634352
Bettina Luescher, WFP/New York, Tel. +1 646 5566909, Mob. +1 646 8241112
Jane Howard, WFP/Rome, Tel. +39 06 65132321, Mob. +39 346 7600521
Elisabeth Byrs, WFP/Geneva, Tel. +41 22 917 8564, Mob. +41 79 473 4570
Gregory Barrow, WFP/London, Tel. +44 20 72409001, Mob. +44 7968 008474
Steve Taravella, WFP/Washington DC, Tel. +1 202 653 1149, Mob. +1 202 770 5993