The World Food Programme Pays Tribute To Japanese Journalist Kenji Goto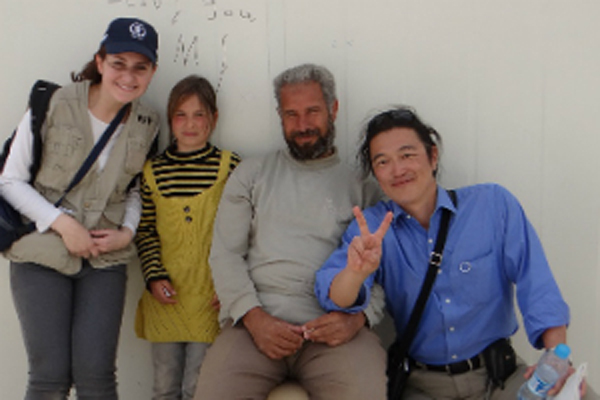 Statement from WFP Executive Director Ertharin Cousin

ROME - As the world mourns the senseless murder of Kenji Goto, the Syria Crisis staff of the United Nations World Food Programme are remembering him for the incredible support he provided to WFP in the last few years of his life. Kenji was an ally in the fight against hunger, covering our Syria operations extensively and traveling to refugee camps with our staff on a regular basis.
In 2012, Kenji travelled to Jordan as the filming coordinator for a prime time TV programme aired in Japan. It featured WFP's activities supporting Syrian refugees in Jordan in a very positive light and raised WFP's profile in Japan.
Staff who were lucky enough to work closely with him testify that Kenji was a truly exceptional journalist and a true humanitarian. They remember how genuinely interested he was in the plight of people.
He would ask ahead of time what gifts he could bring to the children in the camps and in spite of tight schedules, he would always give the refugees he visited the time and the space to mourn as he listened to their stories of the crises they survived.
 
At the news of his death, WFP colleagues paid tribute on social media with a moving photograph taken in happier times. We are all indebted to Kenji for his genuine interest and support and for telling the people of Japan the story of WFP's work and the people we serve.
#                              #                                 #
WFP is the world's largest humanitarian agency fighting hunger worldwide, delivering food assistance in emergencies and working with communities to improve nutrition and build resilience. Each year, WFP assists some 80 million people in around 75 countries.
Follow us on Twitter @wfp_media  
For more information please contact (email address: firstname.lastname@wfp.org):
Dina El-Kassaby, WFP/Cairo, Tel. +2010 1521 8882
Yuko Yasuda, WFP/Japan, Tel. +81 3 5766 5364, Mob. +81 90 9844 9990
Emilia Casella, WFP/Rome, Tel. +39 06 6513 3854, Mob. +39 347 9450634
Gregory Barrow, WFP/London, Tel.  +44 20 72409001, Mob.  +44 7968 008474
Elisabeth Byrs, WFP/Geneva, Tel. +41 22 917 8564, Mob. +41 79 473 4570
Bettina Luescher, WFP/New York, Tel. +1-646-5566909, Mob.  +1-646-8241112